Lightning detection on Venus: a critical review
Progress in Earth and Planetary Science
2018
5:34
Received: 16 October 2017
Accepted: 4 April 2018
Published: 20 June 2018
Abstract
Claimed detections and nondetections of lightning and related electromagnetic emissions on Venus are qualitatively contradictory. Here, motivated by the commencement of observations by the Akatsuki spacecraft and by studies of future missions, we critically review spacecraft and ground-based observations of the past 40 years, in an attempt to reconcile the discordant reports with a minimal number of assumptions. These include invoking alternative interpretations of individual reports, guided by sensitivity thresholds, controls, and other objective benchmarks of observation integrity. The most compelling evidence is in fact the first, the very low frequency (VLF) radio emissions recorded beneath the clouds by all four of the Veneras 11–13 landers, and those data are re-examined closely, finding power-law amplitude characteristics and substantial differences between the different profiles. It is concluded that some kind of frequent electrical activity is supported by the preponderance of observations, but optical emissions are not consistent with terrestrial levels of activity. Venus' activity may, like Earth's, have strong temporal and/or spatial variability, which coupled with the relatively short accumulated observation time for optical measurements, can lead to qualitative discrepancies between observation reports. We note a number of previously unconsidered observations and outline some considerations for future observations.
Keywords
Venus
Lightning
Electromagnetic emission
Observation
Introduction
As our sister planet Venus attracts particular interest among solar system objects, it is further important to recognize that many Earth-sized planets now being detected around other stars are as likely to be "Venus-like" as they are "Earth-like." Lightning is an important process for several reasons (e.g. Rakov and Uman, 2003). First, it is a striking phenomenon in its own right. Second, it may serve as a diagnostic of other processes, such as volcanism or convection. Third, lightning may be important in atmospheric evolution and prebiotic evolution, notably in fixing nitrogen which is an essential element in living things but is generally chemically inaccessible. Finally, lightning may be a hazard for vehicles exploring a planetary atmosphere.
In this connection, it is interesting to consider that the detection footprints of the various techniques may have a counterintuitive trend—that higher-altitude surveys may sample a smaller area. Specifically, the extremely low frequency (ELF) (~ 100 Hz) whistler-mode electromagnetic detections from orbit sample only an area connected to the spacecraft by appropriate ionospheric and magnetic field conditions and so may sense a range of only a couple of hundred kilometers from the subspacecraft point. However, very low frequency (VLF) (10–80 kHz) measurements by descent probes at low altitude may detect discharges at ranges of thousands of kilometers, due to ducted propagation by super-refraction in the lower atmosphere (Croft 1983) and/or by "skybounce"—reflection from the ionosphere (e.g., Simões et al. 2008)—see also discussion in Ksanfomality et al. (1983). Similar VLF detectors are now used routinely by networks on Earth to map and track lightning activity over planetary-scale distances (see, e.g., Wood and Inan 2002 or the World-Wide Lightning Location Network WWLLN at https://webflash.ess.washington.edu).
A key challenge is in the interpretation of electrical or magnetic signatures claimed to be whistler-mode emissions from lightning discharges. For the Pioneer Venus electric field data at least, several alternative explanations were offered, and much of the 1980s literature is cluttered with this debate. In part, a difficulty is that such observations somewhat transcend scientific disciplinary boundaries—atmospheric scientists are generally unfamiliar with plasma physics, and it is difficult for nonpartisan observers to gauge the robustness of different interpretations. What is clear, however, as we discuss later, is that such electromagnetic signatures are observed fairly consistently, and that lightning discharges are one possible origin.
A further point centers on the definition of "lightning." It is only in the last couple of decades (long after the Venus lightning debate began in earnest with Pioneer Venus) that a fuller range of optical phenomena associated with atmospheric electrical discharges has been recognized on Earth, namely sprites, elves, blue jets, and other emissions. Given the different environment on Venus, it seems highly likely that not only are lightning bolts (if they occur in the conventional sense) possibly different in character, but these other types of luminous events may be present and have similar or different features compared with the Earth. For the purpose of this review, we consider "lightning" to be any optical emission associated with an electrical discharge, thus including ionosphere/mesosphere glows such as sprites as well as "conventional" lightning flashes.
More pertinents, perhaps, from an analogy standpoint are the observations of terrestrial lightning from space. Vanguard III, only the 12th satellite to reach the orbit and only 2 years after Sputnik 1, carried a proton precession magnetometer, in which some VLF whistler-mode signals were detected (Cain et al. 1961). Orbital measurements of whistlers were more robustly observed and directly attributed to "fractional hop" whistler waves launched from near the sites of lightning discharges, by the Canadian satellite Alouette (Barrington and Belrose 1963), and by the small US satellites Injuns 3 and 5 (see, e.g., Gurnett and O'Brien 1964). A global map of lightning is derived from the detection of VLF sferics measured in 1972 by the British satellite Ariel 4 (Bullough et al. 1975).
Optical detections of lightning were made by photometers on the Orbiting Solar Observatory (OSO-B or OSO-2, Vorpahl et al. 1970) and then mapped in more detail by OSO-5 (Sparrow and Ney 1971). These photometers were saturated by moonlight (and sunlight) and therefore were restricted to observations during the new moon. The field of view of these instruments was of the order of a few square degrees (a few × 104km2), and in ~ 200 h of observation spread over 15 months, about 7000 lightning strokes were detected in about 1000 storms, revealing graphically the enhancement of lightning activity over land relative to the oceans at the same latitude. Surveillance by flash meters on US VELA satellites (installed to detect the optical emission from nuclear detonations) revealed a small population of particularly intense lightning discharges (Turman 1977) and later dedicated lightning sensors on the Defense Meteorological Support Program (DMSP) satellites gave additional information on the optical power distribution of lightning flashes overall (Turman 1978; see also Christensen et al. 1979).
Venus observation review
In this section, we review pertinent details of the various Venus observations, arranged chronologically. The key parameters are summarized in Table
2
.
Table 2
Key characteristics of Venus lightning observations
Studya

Platform

Instrument

Signature

Instrument designed for lightning?

Detections

Amplitude or Sensitivity

Controls

Other explanations for data

Area observed

Duration

Veneras 9 and 10 orbiter

Visible spectrometer

Spikes in optical intensity

No (spectral scanner)

1 burst of ~ 2 flashes/s over 70 s

1E8 W 3E7 J/flash

Dark sky

Debris from spacecraft?

1500 km2

2 spacecraft × 25,000 s (night)

Ksanfomality et al. 1979, Ksanfomality et al. 1982, Ksanfomality et al. 1983

Veneras 11 and 12 lander. Veneras 13 and 14 lander

Groza (V11, 12) Groza-2 (V13, 14) magnetic and acoustic sensors

10 and 36 kHz impulses

Yes

Near-continuous noise (few to ~ 40 pulses per second)

Tens of μV/μ/Hz0.5

–

Spacecraft noise: but time (altitude) dependence argues against

Few million km2 (?) Depends on propagation

4 spacecraft, ~ 1 h each descent

One burst (V12) 150 pulses in 8 s

20–40 μV/μ/Hz0.5

–

As above

1 million km2 (?)

4 s/c × 8 s every 3–6 min for ~ 1 h

Pioneer Venus Orbiter

Electric field detector

E-field bursts at 100 Hz

(Yes)

4240 bursts

> 20 μV/μ/Hz0.5

–

Plasma noise. Spacecraft noise

Unknown

257 h

Borucki et al. 1991

Pioneer Venus Orbiter

Star scanner

Optical pulses

No

2E8 J

Statistics of off-disk pulses

Cosmic rays

~1 million km2

~ 80 s

Huestis and Slanger 1993

Pioneer Venus Orbiter

UV spectrometer

Spikes in optical intensity

No (spectral scanner)

1 event

> 70 kR

–

Meteor trail was preferred explanation

< 1000 km2

~ 600 orbits, 10 min each

Gurnett et al. 1991

Galileo flyby

Radio

Electric field

Yes

9 impulses

10–16 V2 m-2 Hz-1

Observations before/after encounter

Plasma noise, spacecraft noise

Disk

53 min

Belton et al. 1991

Galileo flyby

CCD Camera

Bright spots on image

Yes

Nondetection

4 × 1E9 J

–

N/A

Part of disk

Hansell et al. 1995

1.54 m ground-based telescope

CCD camera

Bright spots on image

Yes

7 flashes

7E7–1E9 J

Dark frames

Cosmic rays

~ 70% of disk

3.75 h

Gurnett et al. 2001

Cassini flybys

Radio and plasma wave

Electric field

Yes

Firm nondetection

Earth lightning

N/A

~ Disk

Venus Express

Magnetometer

Bursts at 64 Hz

Indirectly

~ 700 s of activity per 225 days (10 min/day)

~ 0.1–1 nT

Variation with altitude

Plasma, spacecraft noise

~ 200 km

Moinelo et al. 2016

Venus Express

VIRTIS near-IR spectrometer

Bright spectra

No

Nondetection

Not stated

–

N/A

(varies)

~ 50,000 s total
Implications and discussion
Conclusions and recommendations for future surveys
This review reaches much the same conclusion as many before it, namely that more observational data are required to make a robust assessment about atmospheric electrical activity on Venus. To date, the most compelling indications of some kind of persistent atmospheric electrical activity at Venus appear to be the VLF detections by Veneras 11–14. The ELF emissions observed by Pioneer Venus, and perhaps more robustly by Venus Express, appear fully consistent with such electrical activity although they do have potential other explanations. As summarized in Table 3, rates of activity seem broadly coherent among the quite different datasets.
Of the optical observations, the ground-based observation by Hansell et al. (1995) appears the most significant in terms of robustness and area and time observed, although the very small number of flashes is challenging to interpret quantitatively. The Venera 9 observation has a number of aspects that make the interpretation difficult and suggest a possible artifact. Circumstantially, the nondetection, or at least lack of reports of detected flashes, in a number of other datasets (Pioneer Venus star tracker, VEGA, Venus Express) indicates that flashes are not a prominently observable feature of Venus, although in some cases (Pioneer Venus, VEGA), the area and/or duration of the observation is small.
It is clear that a larger area-time product, desirably with a low optical energy detection threshold, is required to assert strong upper limits on, or to obtain secure statistics of, what is likely to be a strongly spatio-temporally variable phenomenon. The present state of the art of optical detections at Venus is somewhat similar to the handful of orbits with a high detection threshold (totaling 4 h), as shown in the lower panel of Fig. 11 for terrestrial data from the C/NOFS satellite—the interpretation of only a few flashes is challenging as any geographical or temporal dependence is not statistically robust. It may be hoped that the Lightning and Airglow Camera (LAC) on Akatsuki may be operated for some time, yielding statistically useful numbers of detections. The rate of optical detections for an instrument at Earth viewing from about 1000 km altitude, and thus viewing about 1 million km2 (e.g., FORTE, Kirkland et al. 2001) is of the order of 100–200 per hour. The eight initial LAC observations reported by Takahashi et al. (2018) cover a few million km2 for ~ 20 min, and thus, many detections would have been expected if the optical flashes comparable with terrestrial ones occurred at a terrestrial rate, given a total survey of 10~ 20 million km2-h. On the other hand, perhaps detectable Venus flashes may be as rare as terrestrial "superbolts" (~ 109 J optical energy). Forty such flashes were seen (Turman 1977) in 2 months of long-distance observations, i.e., full-disk ~ 130 million km2, from the Vela satellites. Thus, the rate of these events is ~ 2 × 10−4 per million km2-h, and so, an instrument with observing opportunities like LAC (~ 20 min in each 10-day orbit) is unlikely to achieve a detection, even if in operation for a decade. The subtlety of planet-averaged lightning rates not representing the highly clustered (i.e., "conditional") distribution of flashes (e.g., Fig. 4) should be noted—it is not enough to stare with a very sensitive detector at only one place if that place does not see a storm. Thus, there remains high value in obtaining further LAC observations. The question of irregular spatio-temporal sampling of an irregular spatio-temporal phenomenon such as lightning deserves further quantitative exploration, e.g., by Monte-Carlo simulations that can include, e.g., geographical, time of day, or other dependencies, but this is beyond the scope of the present review.
It may be noted that a sufficiently long optical survey may yield optical transient detections even if lightning never occurs on Venus; satellite optical observations (such as Vela, designed to detect nuclear detonations) detect flashes of large meteoroids (bolides) entering the Earth's atmosphere (Brown et al. 2002). The reported events with optical energies of the order of 4 × 109 J occur at a rate of ~ 100/year at Earth, or about 2.5 × 10−5 per million km2-h, with less energetic events proportionately more often. Thus a 106 J optical event might occur at ~ 0.1 per million km2-h, such that at least a few such events can be expected in some years of LAC observation. Note, however, that the duration of bolide entries is long compared with a lightning flash; in the Venus atmosphere, meteor "flares" are expected to last a couple of seconds (e.g., McAuliffe and Christou 2006), so the triggering logic of an instrument like the LAC, or the exposure time of a camera, cannot be optimal for searching for lightning and for bolides simultaneously.
The superficially bland optical appearance of Venus and its interpretation as a uniform, unchanging atmosphere has given way to a much more variable perspective revealed in the near-infrared (for example by the Akatsuki 2-micron camera—see Fig.
12
); thus, it would not be surprising if the vertical motions required for charge separation were as localized as they are on Earth. Not only might the diurnal distribution of lightning production be concentrated (e.g., dusk-midnight) but there may be a geographical preference (e.g., at volcanoes or downwind of large mountainous provinces that may produce uplift in gravity waves). There may also be a meteorological influence on detection efficiency—e.g., lightning emissions may (as on Earth) be more easily detected at the edges of large convective storms, rather than at their center where the obscuring clouds may be thicker.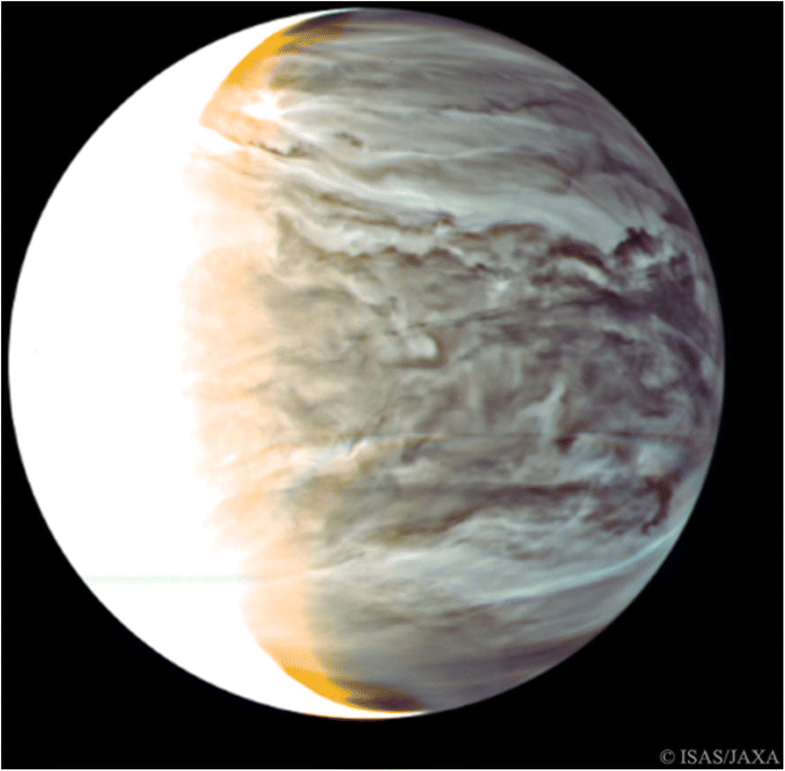 Above the ionosphere, surveys of whistler-mode signals from orbit have already been comparatively extensive, yielding results that remain broadly consistent from 1 year to the next, and between the Pioneer Venus and Venus Express datasets. While further observations, e.g., from a low circular orbit, would have some value in refining geographical and local time distributions, they are unlikely by themselves to be any more persuasive to the broader community, or informative on the generation mechanism. A combination of an ELF electrical/magnetic detection with another type (most obviously an optical sensor, but possibly gamma ray, or even VHF radio) would be much more compelling (as performed on FORTE and C/NOFS at Earth—see, e.g., Fig. 5) and Suszcynsky et al. 2000. As noted by Russell (2011), a low circular polar orbit is desirable for radar mapping, and a modest lightning instrument would be a valuable but relatively inexpensive augmentation to a radar mapping mission. We may note that such combined optical and RF surveys of lighting (e.g., Light et al. 2001) at Earth have been performed on a rather small satellite platform (e.g., FORTE, 210 kg, flown in 1997).
Both the Pioneer Venus electric and the Venus Express magnetic whistler-mode observations have been made over ~ 10 years for each mission near periapsis (~tens of minutes during each 24 h orbit, or a duty cycle of ~ 2%). Thus, the total observing time is ~ 0.2 years. A radar mapper in a low circular orbit allowing continuous observation would require at least one Venus day (~ 0.7 years) and probably several to sweep through the full range of longitudes and relay the data. Thus, even allowing for lightning observations only at night, piggybacking a lightning payload on a mapping mission will yield a factor of several improvements in observation duration for electromagnetic observations, with better geographical diversity, compared with prior surveys. An optical monitor on a low orbiter, with a ~ 25% duty cycle for night-time only operation, would yield a vastly longer observation time than has been possible to date (typically a few hours).
Below the ionosphere, a long-lived (months?) aerial platform like a balloon would be useful in having a much longer observation period than a surface probe, which will be limited to a few hours. The Venera results suggest that a simple instrument like Groza or the Galileo LRD (an instrument which even with the 1980s technology had a mass of 2.5 kg, a power demand of 3 W and an average data rate of only ~ 1 bit per second—Lanzerotti et al. 1992) would yield rich VLF data from an easily accommodated coil or loop antenna. A modern instrument, operating on a platform near the cloud tops (where temperatures and pressures are benign) could be implemented with a few hundred grams of hardware—it is basically an AM radio, and even only a week of operation would yield a dataset 100 times larger than a probe descent like Venera. Optical detection on an airborne platform would likely have a much shorter range (tens of kilometers) due to atmospheric absorption and scattering but demands so little mass or power that a flash detector should probably be included anyway. A measure of the DC electric field would also be useful to assess fair weather electricity (e.g., the character of the global electric circuit) and possible charging mechanisms; the vertical tether on a balloon is an obvious platform on which to make a simple measurement.
The incremental value of further measurements on short-lived landers or probes is not obvious, unless direction-finding capability (easily implemented, as in some terrestrial sensors, simply by having two coils and measuring the intensity ratio between them) is included. The crude direction-finding implemented by the single coil on the Venera probes with modest directivity coupled with somewhat uncertain spin rate information (Ksanfomality, personal communication, 2017) could not disentangle spin modulation of a finite-extent source from temporal variability in it, nor reliably isolate multiple source regions. A two-axis sensor could resolve these ambiguities, making even a single hour-long probe descent worthwhile, although a long-lived aerial platform would of course be preferable. Desirably, technology developments may eventually permit long-duration operation, and/or multiple platforms can be sent such that useful constraints on temporal or spatial variability can be determined.
Although further spacecraft measurements at Venus are sorely needed, as described above, it is likely that useful insights from ground-based observations can still be made. More sensitive optical surveys can be performed with high-speed cameras that are now readily available, and automated searches with sophisticated statistical tests have been developed (e.g., a lightning search at Jupiter by Luque et al. 2015). Additionally, lightning can be detected by radio methods (e.g., Zarka et al. 2008; Konovalenko et al. 2013) reported observations of Saturn lightning using the large UTR-2 radiotelescope at 20–25 MHz (robust detections were made with fluxes of 100–700 Jansky). A positive simultaneous detection at Venus by both optical and radio means would be powerful evidence of lightning or related activity.
Footnotes
1
Note that this Taylor (Harry H., of Goddard Space Flight Center) is not the same Taylor (William W., of TRW, Inc) who authored the 1979 "discovery" paper.
Abbreviations
C/NOFS:

Communications/Navigation Outage Forecasting System (satellite)
ELF:

Extremely low frequency, a few Hz to a few hundred Hz
FORTE:

Fast On-orbit recording of Transient Events (satellite)
kR:

kiloRayleigh (unit of optical flux)
LRD:

Lightning and Radio Detector (on Galileo probe)
OEFD:

(Pioneer Venus) Orbiter Electric Field Detector
OGBD:

(Pioneer Venus) Orbiter Gamma-Ray Detector
TGF:

Terrestrial gamma-ray flash
TLE:

Transient luminous event
VEx:

Venus Express
VLF:

Very low frequency, typically 3–100 kHz
Declarations
Acknowledgements
The author thanks Seth Hansell, Vladimir Krasnopolsky, Leonid Ksanfomality, and Don Gurnett for a candid discussion of their observations. Their acknowledgement here for responding to questions should not be taken as their endorsement of any contentions in this paper. Bob Holzworth is thanked for making C/NOFS data available and providing Fig. 4. Two anonymous referees provided constructive comments.
Funding
RL acknowledges the support of NASA Venus Climate Orbiter Participating Scientist grant NNX16AC78G.
Author's contributions
RL conceived and designed the study and wrote the paper. The author read and approved the final manuscript.
Author's information
Ralph Lorenz is a planetary scientist on the Principal Professional Staff of the Johns Hopkins University Applied Physics Laboratory (APL). He is a member of the Cassini RADAR team, a Co-I on the Huygens Surface Science Package, a Collaborator on the InSight Seismometer team, and a NASA Participating Scientist on the JAXA Akatsuki mission. He is involved in formulating mission and instrument concepts at Titan, Europa, Venus, and Mars. He holds five NASA Group Achievement awards. He is the author of seven books, including "Dune Worlds," "Lifting Titan's Veil," "Spinning Flight," and "Space Systems Failures." Prior to joining APL in 2006, Lorenz was at the Lunar and Planetary Lab, University of Arizona. He has a B.Eng. in Aerospace Systems Engineering from the University of Southampton in the UK and a Ph.D. in Physics in 1994 from the University of Kent at Canterbury and worked for the European Space Agency on the design of the Huygens probe, for which he performed the lightning hazard assessment.
Competing interests
The authors declare that they have no competing interests.
Publisher's Note
Springer Nature remains neutral with regard to jurisdictional claims in published maps and institutional affiliations.
Open AccessThis article is distributed under the terms of the Creative Commons Attribution 4.0 International License (http://creativecommons.org/licenses/by/4.0/), which permits unrestricted use, distribution, and reproduction in any medium, provided you give appropriate credit to the original author(s) and the source, provide a link to the Creative Commons license, and indicate if changes were made.
Authors' Affiliations
(1)
Johns Hopkins Applied Physics Laboratory, Laurel, USA