The geospace response to variable inputs from the lower atmosphere: a review of the progress made by Task Group 4 of CAWSES-II
Progress in Earth and Planetary Science
2015
2:2
Received: 31 May 2014
Accepted: 7 December 2014
Published: 11 February 2015
Abstract
The advent of new satellite missions, ground-based instrumentation networks, and the development of whole atmosphere models over the past decade resulted in a paradigm shift in understanding the variability of geospace, that is, the region of the atmosphere between the stratosphere and several thousand kilometers above ground where atmosphere-ionosphere-magnetosphere interactions occur. It has now been realized that conditions in geospace are linked strongly to terrestrial weather and climate below, contradicting previous textbook knowledge that the space weather of Earth's near space environment is driven by energy injections at high latitudes connected with magnetosphere-ionosphere coupling and solar radiation variation at extreme ultraviolet wavelengths alone. The primary mechanism through which energy and momentum are transferred from the lower atmosphere is through the generation, propagation, and dissipation of atmospheric waves over a wide range of spatial and temporal scales including electrodynamic coupling through dynamo processes and plasma bubble seeding. The main task of Task Group 4 of SCOSTEP's CAWSES-II program, 2009 to 2013, was to study the geospace response to waves generated by meteorological events, their interaction with the mean flow, and their impact on the ionosphere and their relation to competing thermospheric disturbances generated by energy inputs from above, such as auroral processes at high latitudes. This paper reviews the progress made during the CAWSES-II time period, emphasizing the role of gravity waves, planetary waves and tides, and their ionospheric impacts. Specific campaign contributions from Task Group 4 are highlighted, and future research directions are discussed.
Keywords
GeospaceThermosphereIonosphereTidesPlanetary wavesGravity wavesTraveling ionospheric disturbancesTraveling atmospheric disturbances
Introduction
The space weather of Earth's upper neutral and ionized atmosphere is strongly influenced by energy injections at high latitudes connected with magnetosphere-ionosphere coupling and solar radiation variability at extreme ultraviolet wavelengths. A variety of new evidence obtained over the past few years now demonstrates unequivocally that the geospace environment also owes a substantial amount of its variability to waves forced in the lower parts of Earth's atmosphere, that is, the troposphere and stratosphere. This paradigm shift in understanding the causes of geospace variability was made possible by the advent of satellite missions like Imager for Magnetopause-to-Aurora Global Exploration (IMAGE) (Burch
2000
), Thermosphere Ionosphere Mesosphere Energetics and Dynamics (TIMED) (Yee et al.
1999
), CHAllenging Minisatellite Payload (CHAMP) (Reigber et al.
2006
), Gravity Recovery and Climate Experiment (GRACE) (Tapley et al.
2004
), and Constellation Observing System for Meteorology (COSMIC) (Anthes et al.
2008
), advanced ground-based observing capabilities like Poker Flat Advanced Modular Incoherent Scatter Radar (PFISR) (e.g., Nicolls and Heinselman
2007
) and airglow observing networks (e.g., Shiokawa et al.
2009
; Makela et al.
2009
), and the development of 'whole atmosphere' general circulation models from the ground to the ionosphere such as Whole Atmosphere Community Climate Model - thermosphere extension (WACCM-X) (Liu et al.
2010a
), Whole Atmosphere Model (WAM)/Coupled Thermosphere Ionosphere Plasmasphere Electrodynamics Model (CTIPe) (Fuller-Rowell et al.
2010
), and ground-to-topside model of Atmosphere and Ionosphere for Aeronomy (GAIA) (Jin et al.
2011
). See the list of abbreviations at the end of the paper. It is by now without dispute that geospace owes much of its longitudinal, seasonal-latitudinal, and day-to-day variability to meteorological weather processes in the troposphere and stratosphere (e.g., Immel et al.
2006
; Forbes et al.
2006
; Oberheide et al.
2006b
; Hagan et al.
2007
; Goncharenko et al.
2010
; Fritts and Lund
2011
; Maute et al.
2012
; and references therein). The primary mechanism through which energy and momentum are transferred from the lower atmosphere is through the propagation and dissipation of atmospheric waves, including electrodynamic coupling through dynamo processes and instability seeding. Table
1
summarizes the basic characteristics of the three most important classes of atmospheric waves: gravity waves (GWs), atmospheric tides, and planetary waves (PWs).
Table 1
Basic characteristics of atmospheric waves
| | Gravity (buoyancy) waves | Atmospheric tides | Planetary waves |
| --- | --- | --- | --- |
| Spatial scale | Local; 10 to 1,000 s of kilometers | Global; 10,000 s of kilometers | Global; 10,000 s of kilometers |
| Temporal scale | Minutes to hours | 1 day or harmonics | Days to weeks |
| Excitation | Mechanical distortions, latent heating | Solar heating, latent heating | Mechanical distortions, baroclinic instabilities |
CAWSES-II Task Group 4 (TG4; What is the geospace response to variable inputs from the lower atmosphere?) was therefore charged to elucidate the dynamical coupling from the low and middle atmosphere to the geospace (i.e., the upper atmosphere, ionosphere, and magnetosphere), for various wave frequencies and scales, and for equatorial, middle, and high latitudes. As meeting the challenge clearly requires a systems approach involving experimentalists, data analysts, and modelers from different communities, an essential part of TG4 was to encourage interactions between atmospheric scientists and plasma scientists on all occasions. To distinguish geospace variability due to solar and magnetospheric driving from above from processes propagating from below, and in order to dissect the problem into solvable pieces, four projects were formed to respectively address each of the following science questions: (1) How do atmospheric waves connect tropospheric weather with ionosphere/thermosphere variability? (2) What is the relation between atmospheric waves and ionospheric instabilities? (3) How do the different types of waves interact as they propagate through the stratosphere to the ionosphere? (4) How do thermospheric disturbances generated by auroral processes interact with the neutral and ionized atmosphere?
Several observational campaigns were conducted within each project, supported by regular workshops, conference sessions, and business meetings. Results were not only disseminated through the peer-reviewed literature but also to the broader CAWSES community through quarterly TG4 newsletters. This paper describes these activities and reviews the progress made over the CAWSES-II period from 2009 to 2013. Each project and its scientific outcomes are described in a separate section. The manuscript concludes with a general discussion of the outcomes, the scientific challenges for the future, new satellite missions, and SCOSTEP's new VarSITI program. More results related to TG4 can be found in the four special issues listed in Table 2 and in a special issue of Earth, Planets and Space dedicated to results presented at the International CAWSES-II Symposium (2014) held at Nagoya University, Japan, 18 to 22 November 2013.
Conclusions
Scientific outcome and challenges
Overall, TG4 brought together the historically separate neutral atmosphere and plasma communities in a way that allowed for much progress in understanding how neutral variability originating in the lower atmosphere impacts and interacts with Earth's ionosphere, from low to polar latitudes and from the troposphere to the F-region. For example, the role of waves due to convection, polar stratosphere dynamics, or auroral processes in causing substantial ionospheric variability through dynamo processes and Rayleigh-Taylor instabilities is now much better understood than before. This was achieved through a combination of dedicated campaign activities and workshops resulting in four special issues in the peer-reviewed literature (Table 2). The aeronomy community is well on its way to separating ionospheric variability introduced by driving from below and from the magnetosphere and Sun above, an essential task toward achieving predictability of space weather. In this respect, it is important to note that the solar activity at the beginning of the CAWSES-II period was extremely quiet, allowing the pure effects from the lower atmosphere to be observed in isolation without disturbances from above.
There are a number of critically important open questions toward the goal of achieving space weather predictability. Significant amounts of variability remain unexplained and/or are very difficult to detect and interpret, for example, the imprints of convectively forced gravity waves in the thermosphere. Short-term tidal variability in the neutrals and plasma is largely unknown because of the lack of suitable satellite data since local time coverage by a single satellite is limited. It is not clear what is more important: wave propagation into the thermosphere and then into to the ionosphere; or electrodynamic coupling between the E- and F-region and then into the thermosphere. The dynamics community still knows little about interactions between the various types of waves (tides, PWs, and GWs) and the mean flow. A major observational and technological challenge is the lack of global wind observations, day and night, throughout the 120 to 400 km region.
As overviewed below, new space-borne and ground-based assets, along with progress in geospace modeling, will help to close this knowledge gap that is also targeted through elements of SCOSTEP's new VarSITI program.
Program outreach
As a dedicated effort of the international scientific community, and in accordance with SCOSTEP's mission not only to run scientific programs but also to promote solar-terrestrial physics and dissemination of the derived knowledge for the benefit of society, Task Group 4 published a quarterly newsletter. Each newsletter was about eight pages long with updates on recent campaign activities, short news, and a portrait of a young scientist. All articles were written to be understandable for non-specialist and published on the task group wiki (www.cawses.org/wiki/index.php/Task_4) and through an extensive mailing list. A total of 13 issues have been published with 64 articles from authors from 20 different countries, including 10 articles featuring young scientists. TG4 also organized and/or supported 12 dedicated workshops and special sessions and held annual business meetings during major conferences.
New and future satellite missions
Space agencies and national science foundations in the U.S., Europe, and Asia by now recognize the importance of lower atmosphere driving of the ionosphere-thermosphere system not only as a domain of compelling scientific inquiry but also as highly relevant for understanding and predicting space weather; a task highly relevant for technological societies.
In the United States, the Decadal Survey on Solar and Space Physics 2013 to 2022 conducted by the National Academy of Sciences (National Research Council 2013) recognized the realization that weather systems in the troposphere impact space weather through tides and gravity waves as one of the significant discoveries in the past decade, making 'the comprehensive understanding of the variability in space weather driven by lower-atmosphere weather on Earth' its second highest priority and recommended a dedicated satellite constellation (DYNAMIC) to be launched around the year 2020. While NASA budget constraints may delay the implementation of DYNAMIC; two new satellite missions dedicated to ionosphere-thermosphere physics, ICON and GOLD, will be launched in 2017. Both ICON and GOLD can be seen as pathfinder missions for DYNAMIC. ICON will collect data from a low Earth orbit to compare the impacts of direct solar driving and lower atmosphere driving on variability in the ionosphere/thermosphere system, and GOLD will image the thermosphere from a geostationary orbit, allowing for an unprecedented global view of short-term variability.
A very exciting new mission, launched on 22 November 2013, is the European Space Agency (ESA) Swarm mission. Swarm is a unique three satellite constellation with two satellites orbiting at 480 km and one at 510 km to measure Earth's magnetic field, the electric field in the ionosphere, and thermospheric density and winds. See the special issue in Earth, Planets and Space on Swarm Science Data Processing and Products - the Swarm Satellite Constellation Application and Research Facility (2013) for details. Each of the identical Swarm satellites has a vector and scalar magnetometer, a Langmuir probe, an accelerometer, and GPS instrumentation on board, similar to the tremendously successful CHAMP satellite. During its anticipated 10-year mission, the Swarm data will allow the ionosphere/thermosphere community to obtain an unprecedented view of small-scale structures in the thermosphere and the ionospheric plasma.
Due to the success of COSMIC (a particularly important dataset for the ionosphere/thermosphere community because of its global electron density profiles from radio occultation), the United States and Taiwan will launch COSMIC-2 between 2015 and 2018. COSMIC-2 consists of six satellites in a low-inclination orbit (launch in 2015) and another six satellites in high inclination orbits (launch in 2018).
Along with emerging cubesat and nanosat capabilities, these new space-borne assets will form the backbone of studying the signatures and impact of lower atmosphere variability versus magnetosphere/solar-driven variability in the next decade. Their synergistic use will most likely allow the community to make significant progress toward understanding geospace as a system and also toward predictability of space weather, a significant need for a technological society. A particular challenge, however, will remain: global thermospheric winds throughout the whole thermosphere during day- and nighttime; dataset airglow interferometers cannot provide. The implementation of new emerging technologies, such as the Doppler wind and temperature sounder (DWTS; Gordley and Marshall 2011; Lieberman et al. 2012), will be needed.
New ground-based assets
Ground-based facilities are powerful tools to measure vertical coupling from the atmosphere to geospace. They are basically radio techniques (various types of radars, ionosondes, satellite beacon receivers including Global Navigation Satellite System (GNSS) receivers, natural/artificial wave receivers, and magnetometers) and optical techniques (imagers and interferometers for airglow and aurora; and lidars). Figure
22
summarizes the altitude ranges and measurement parameters of various ground-based techniques. Because a single instrument covers only a certain range of altitudes and can measure a limited set of physical parameters, it is essential to combine several types of instruments at the same place to understand the connection from the troposphere to geospace. Multi-point networks of these various instruments are becoming available, providing global information of these parameters, e.g., Yumoto (
2011
) - MAGDAS and Yizengaw and Moldwin (
2009
) - AMBER for magnetometers, Makela et al. (
2009
) - RENOIR, Shiokawa et al. (
2009
) - OMTIs, Makela et al. (
2012
) - NATION, and Meriwether et al. (
2014
) - Peruvian FPIs for optical instruments, and Cohen et al. (
2010
) - AWESOME for LF/VLF receivers. It is also important to combine these ground-based observations with satellite measurements to separate temporal and spatial variations.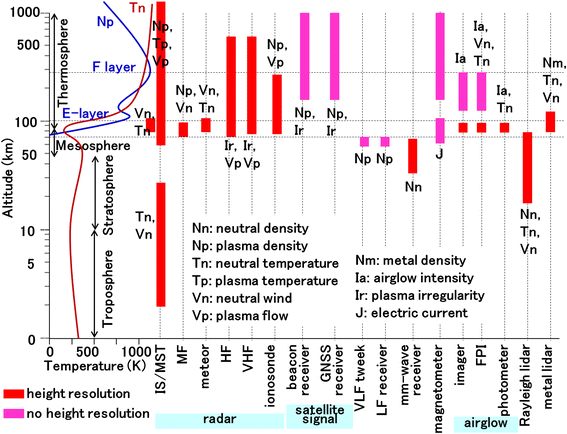 One of the great progress of ground-based observation during CAWSES-II was that the multi-point GNSS receiver network is becoming a powerful tool to provide two-dimensional images of the ionospheric total electron content in the spatial resolution of less than approximately 100 km, as shown in Figure 2 as a striking example of tsunami- and tornado-induced gravity wave penetration to the ionosphere (Tsugawa et al. 2011; Nishioka et al. 2013). Such high-resolution TEC maps become available not only over Japan and US, but also in other places, e.g., over South America (Takahashi et al. 2014) and Europe (Otsuka et al. 2013). The number of GNSS receivers will grow further even after the CAWSES-II era and will become an important facility to monitor ionospheric disturbances.
The widest altitude coverage from the troposphere to the ionosphere can be achieved by powerful facilities of incoherent scatter (IS)/mesosphere-stratosphere-troposphere (MST) radars. Currently, major facilities of IS/MST radars are available at Resolute Bay (RISR), Poker Flat (PFISR), Sondrestrom, Milstone Hill, Arecibo, and Jicamarca in the American longitudinal sector; Irkutsk, Shigaraki (MU), Wuhan, Gadanki, and Kototabang (EAR) in the Asian sector; and Svalbard (ESR), Scandinavia (EISCAT), Andøya (MAARSY), Kharkov, and Syowa (PANSY) in the European sector. The EISCAT radar will be renewed into the EISCAT_3D radar (Wannberg et al. 2010) to obtain three-dimensional information of plasma-neutral interaction in the auroral ionosphere/thermosphere. This renewal will also stimulate measurements of tropospheric and stratospheric parameters using its powerful facilities. The Equatorial Atmosphere Radar (EAR) is planned to be renewed to the EMU (Equatorial Middle and Upper atmosphere) radar with more than five times larger transmission power to perform IS observations of the ionosphere.
VarSITI - SCOSTEP's 2014 to 2018 program
The new 2014 to 2018 SCOSTEP program Variability of the Sun and Its Terrestrial Impact (VarSITI) will focus on the unusual low solar activity during solar cycle 24 and its consequences on Earth. One of the four VarSITI projects is called Role of the Sun and the Middle Atmosphere/Thermosphere/Ionosphere in Climate (ROSMIC) and is directed toward identifying the effects of external forcing on and predicting the effects of internal changes to the atmosphere/ionosphere. One goal of ROSMIC is to understand the impact of the Sun on the terrestrial middle atmosphere/lower thermosphere/ionosphere relative to anthropogenic forcing including coupling within the atmosphere-ionosphere system. As such, ROSMIC continues the science investigations related to understanding the geospace response to lower atmosphere variability that were carried out during CAWSES-II, using similar approaches such as observing campaigns, workshops, etc.
Abbreviations
AMBER:

African Meridian B-Field Education and Research
AWESOME:

Atmospheric Weather Electromagnetic System for Observation Modeling and Education
CAWSES:

Climate and Weather of the Sun-Earth System
CERTO:

coherent electromagnetic radio tomography
CHAMP:

CHAllenging Minisatellite Payload
CIR:

co-rotating interaction region
CME:

coronal mass ejection
COSMIC:

Constellation Observing System for Meteorology
CTIPe:

Coupled Thermosphere Ionosphere Plasmasphere Electrodynamics Model
CTMT:

Climatological Tidal Model of the Thermosphere
D0:

diurnal stationary tide of zonal wavenumber 0
DE2:

diurnal eastward propagating tide of wavenumber 2
DE3:

diurnal eastward propagating tide of wavenumber 3
DELTA:

Dynamics and Energetics of the Lower Thermosphere in Aurora
DMSP:

Defense Meteorological Satellite Program
DOY:

day of year
DW1:

diurnal westward propagating tide of wavenumber 1
DW2:

diurnal westward propagating tide of wavenumber 2
DWN:

Darwin
DWTS:

Doppler wind and temperature sounder
DYNAMIC:

dynamical atmosphere ionosphere coupling
EISCAT:

European Incoherent Scatter Scientific Association
ENSO:

El Niño Southern Oscillation
EPB:

equatorial plasma bubble
ESA:

European Space Agency
FPI:

Fabry-Pérot interferometer
FDTD:

finite-difference time-domain
FZA:

Fortaleza
GAIA:

Ground-to-Topside Model of Atmosphere and Ionosphere for Aeronomy
GCM:

General Circulation Model
GITM:

Global Ionosphere Thermosphere Model
GOLD:

Global-scale Observations of the Limb and Disk
GNSS:

Global Navigation Satellite System
GPS:

global positioning system
GRACE:

Gravity Recovery and Climate Experiment
GW:

gravity wave
HRDI:

high-resolution Doppler interferometer
HSS:

high speed solar wind stream
ICON:

Ionospheric Connection Explorer
IMAGE:

Imager for Magnetopause-to-Aurora Global Exploration
ISR:

incoherent scatter radar
ISCCP:

International Satellite Cloud Climatology
LONET:

LONgitudinal NETwork
LSWS:

large-scale wave structure
MAGDAS:

MAGnetic Data Acquisition System
MERRA:

Modern-Era Retrospective Analysis for Research and Applications
MIPAS:

Michelson Interferometer for Passive Atmospheric Sounding
MLS:

microwave limb sounder
MLT:

mesosphere lower thermosphere
MSNA:

midlatitude summer nighttime anomaly
MSTID:

medium-scale traveling ionospheric disturbance
NASA:

National Aeronautics and Space Administration
NATION:

North American Thermosphere Ionosphere Observation Network
NCAR:

National Center for Atmospheric Research
NOGAPS-ALPHA:

Navy Operational Global Atmospheric Prediction System - Advanced Level Physics-High Altitude
OMTIs:

Optical Mesosphere Thermosphere Imagers
ONI:

Oceanic Niño Index
PAM:

Pameungpeuk
PFISR:

Poker Flat Advanced Modular Incoherent Scatter Radar
PW:

planetary wave
QBO:

quasi-biannual oscillation
RENOIR:

The Remote Equatorial Nighttime Observatory of Ionospheric Regions
ROSMIC:

Role of the Sun and the Middle Atmosphere/Thermosphere/Ionosphere in Climate
SABER:

sounding the atmosphere using broadband emission radiometry
SCOSTEP:

Scientific Committee on Solar-Terrestrial Physics
SDI:

scanning Doppler imager
SPW:

stationary planetary wave
SSW:

sudden stratospheric warming
SW4:

semidiurnal westward propagating tide of wavenumber 4
TAD:

traveling atmospheric disturbance
TEC:

total electron content
TG4:

Task Group 4
TIDI:

TIMED Doppler interferometer
TIE-GCM:

Thermosphere-Ionosphere-Electrodynamics General Circulation Model
TIME-GCM:

Thermosphere-Ionosphere-Mesosphere-Electrodynamics General Circulation Model
TIMED:

Thermosphere Ionosphere Mesosphere Energetics and Dynamics
TRMM:

Tropical Rainfall Measuring Mission
VarSITI:

Variability of the Sun and Its Terrestrial Impact
VHF:

very high frequency
WACCM-X:

Whole Atmosphere Community Climate Model - thermosphere extension
WAM:

Whole Atmosphere Model
WINDII:

wind imaging interferometer
Declarations
Acknowledgements
JO, KS, and SG are grateful for the enthusiasm and contributions of all 250 members of TG4, especially the project leaders W. Ward, M. A. Abdu, J. Chau, J. Makela, H. Takahashi, D. Pancheva, M. Yamamoto, H. Fujiwara, and M. Kosch. Our special acknowledgement goes to Dr. Michi Nishioka who edited the quarterly newsletter. JM and HT thank all of the LONET and SpreadFEx-2 campaign participants. JM and HT acknowledge the COSMIC data center team who provided the TEC data. The Pameungpeuk MF radar data were provided through IUGONET under agreement of RISH, Kyoto University. JO was supported by NSF award 1139048 and NASA grants NNX11AJ13G and NNH12CF66C. KS is supported by the JSPS Grants-in-Aid for Scientific Research (20244080, 23403009, and 25247080), JSPS Core-to-Core Program, B. Asia-Africa Science Platforms, and the STEL Cooperative and IUGONET Projects from MEXT, Japan.
Authors' Affiliations
(1)
Department of Physics and Astronomy, Clemson University, Clemson, USA
(2)
Solar-Terrestrial Environment Laboratory, Nagoya University, Nagoya, Japan
(3)
Indian Institute of Geomagnetism, Navi Mumbai, India
(4)
Department of Physics, University of New Brunswick, Fredericton, Canada
(5)
Faculty of Science and Technology, Seikei University, Tokyo, Japan
(6)
South African National Space Agency, Hermanus, South Africa
(7)
Lancaster University, Lancaster, UK
(8)
Currently at National Institute of Polar Research, Tachikawa, Japan
(9)
University of Illinois at Urbana-Champaign, Urbana, USA
(10)
Instituto Nacional de Pesquisas espaciais, São José dos Campos, Brazil
Copyright
© Oberheide et al.; licensee Springer. 2015
This is an Open Access article distributed under the terms of the Creative Commons Attribution License (http://creativecommons.org/licenses/by/4.0), which permits unrestricted use, distribution, and reproduction in any medium, provided the original work is properly credited.