Earthquake faulting in subduction zones: insights from fault rocks in accretionary prisms
Progress in Earth and Planetary Science
2014
1:7
Received: 29 November 2013
Accepted: 6 April 2014
Published: 9 May 2014
Abstract
Subduction earthquakes on plate-boundary megathrusts accommodate most of the global seismic moment release, frequently resulting in devastating damage by ground shaking and tsunamis. As many earthquakes occur in deep-sea regions, the dynamics of earthquake faulting in subduction zones is poorly understood. However, the Integrated Ocean Drilling Program (IODP) Nankai Trough Seismogenic Zone Experiment (NanTroSEIZE) and fault rock studies in accretionary prisms exhumed from source depths of subduction earthquakes have greatly improved our understanding of earthquake faulting in subduction zones. Here, we review key advances that have been made over the last decade in the studies of fault rocks and in laboratory experiments using fault zone materials, with a particular focus on the Nankai Trough subduction zone and its on-land analog, the Shimanto accretionary complex in Japan. New insights into earthquake faulting in subduction zones are summarized in terms of the following: (1) the occurrence of seismic slip along velocity-strengthening materials both at shallow and deep depths; (2) dynamic weakening of faults by melt lubrication and fluidization, and possible factors controlling coseismic deformation mechanisms; (3) fluid-rock interactions and mineralogical and geochemical changes during earthquakes; and (4) geological and experimental aspects of slow earthquakes.
Keywords
Subduction earthquakeAccretionary prismFault rockNanTroSEIZE
Conclusions
We have reviewed recent advances in the study of fault rocks in accretionary prisms. Compared to other tectonic settings (for example fault zones in the continental crust, as recently reviewed by Faulkner et al. 2010), studies of fault rocks in subduction zones are still immature. Studies of the physical and chemical processes that occur during subduction earthquakes also remain in their infancy (see the detailed review of earthquake physics and chemistry based on the integrated field and laboratory approach by Niemeijer et al. 2012). Nevertheless, in the last decade, our understanding of earthquake faulting in subduction zones has greatly improved through fault rock studies in accretionary prisms. These new insights gained into earthquake faulting in subduction zones are summarized below.
The major result from fault rock studies stemming from the NanTroSEIZE project is the detection of past frictional heating along 2- to 10-mm-thick, dark, clay-rich fault gouges of the megasplay fault and the plate-boundary thrust, even at shallow depths (<450 mbsf). High-velocity friction experiments and permeability measurements conducted on fault zone materials have demonstrated that earthquake rupture propagates easily through clay-rich fault gouge by dynamic weakening at high slip rates (e.g., thermal pressurization). On the other hand, the clay-rich materials commonly exhibit velocity-strengthening behavior at low slip rates. The NanTroSEIZE project has clarified that once high-velocity weakening mechanisms begin to operate, the propagation of seismic slip could occur even in initially velocity-strengthening materials at shallow depths (Figure
17
). This fault behavior would therefore enhance tsunami generation during subduction earthquakes.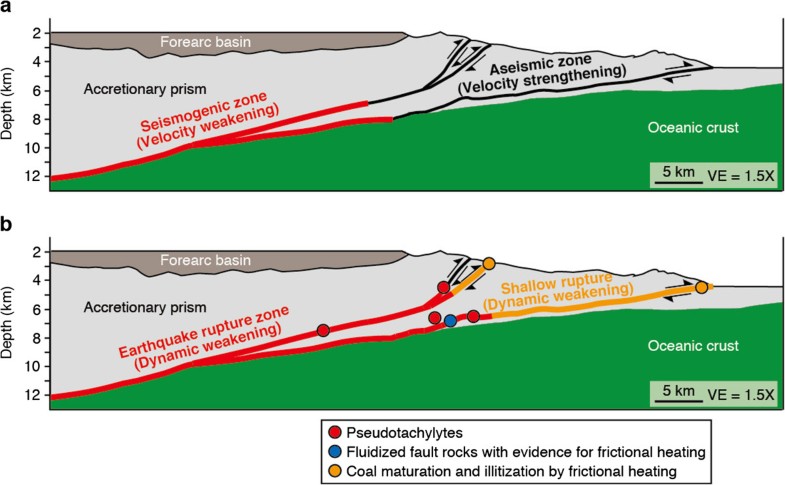 Propagation of seismic slip along velocity-strengthening materials may also occur at deeper depths in subduction zones. Pseudotachylytes in the Shimanto accretionary complex are derived from frictional melting of illite-rich slip zones that commonly show velocity-strengthening behavior at low slip rates (Saffer and Marone 2003), although some low-velocity friction experiments on illite gouge exhibit stick-slip behavior (Moore et al. 1989). The estimated viscosity and shear resistance during frictional melting are very low, suggesting the enhancement of earthquake rupture propagation due to melt lubrication. However, high-velocity friction experiments on the host rock of pseudotachylytes (argillite) suggest that viscous braking associated with the dehydration increasing viscosity of the melt layer could occur at shallow depths. If frictional melting is a dominant coseismic deformation mechanism along the fault in a subduction zone, then the transition from melt lubrication at deep depths to viscous braking at shallow depths may be one of the factors controlling the updip limit of the earthquake rupture zone. An important implication of this is that the updip limit of the earthquake rupture zone should be viewed in terms of dynamic processes that operate at high slip rates, rather than the change from velocity-weakening to velocity-strengthening frictional behavior (Figure 17).
A further discovery made using fault rock studies in the exhumed accretionary complexes is the fluidized rocks within or along the margin of the tectonic mélanges, which are thought to represent paleo-subduction thrusts. The fluidized rock-bearing fault zones commonly record fluid-related phenomenon, and some of fluidized rocks preserve evidence for a small temperature rise of less than 150°C associated with frictional heating. These features suggest that fluidization may be caused by the restraint of a temperature rise by thermal pressurization. In the Shimanto accretionary complex, the thickness of the fluidized zones is typically a few centimeters, which is 1 order of magnitude thicker than that of molten zones. In contrast to frictional melting, it is probable that fluid does not escape from the slipping zone during earthquake faulting, which results in thermal pressurization-induced fluidization. In addition to transport properties such as permeability, the thickness of the seismic slip zone appears to be an important factor controlling coseismic deformation mechanisms. The estimated viscosity and apparent coefficient of friction (or shear stress) during fluidization are very low, showing that fluidization is also a dynamic weakening mechanism of faults during subduction earthquakes.
The fluid-rock interaction recorded in fault zones of exhumed accretionary complexes has been mostly interpreted in terms of a seismic cycle or coseismic fluid-rock interactions. Geological and experimental investigations of subduction zone rocks suggest that fluid plays a key role in slow slip processes in subduction zones, which is consistent with the results of geophysical measurements. However, there has been limited research in this area, and future study is required to examine the frictional properties of various lithologies in subduction zones. On-land accretionary complexes and metamorphic rocks exhumed from source depths of slow earthquakes are expected to record the slow slip processes in subduction zones. Future geological studies are required to shed light on slow earthquakes.
Finally, multi-disciplinary and integrated approaches are crucial to gain a better understanding of the dynamics and physico-chemical processes operating during earthquakes in subduction zones. They include investigations of fault rocks in accretionary prisms, laboratory experiments using subduction zone materials, numerical modeling incorporating the results of fault rock studies and laboratory measurements, geophysical surveys in subduction zones, and sampling and monitoring of active fault zones by deep-ocean drilling. In particular, geophysical surveys and deep-ocean drilling are considered the most promising and only avenues for investigating earthquake processes in non-accreted, erosive margins.
Abbreviations
ETS:

episodic tremor and slip
IODP:

Integrated Ocean Drilling Program
mbsf:

meters below sea floor
NanTroSEIZE:

Nankai Trough Seismogenic Zone Experiment
VLFE:

very-low-frequency earthquakes.
Declarations
Acknowledgements
We would like to thank all of our collaborators for their insightful and thoughtful discussions. The members of the 'IODP NanTroSEIZE Expedition 316 fault rock team' (Frederick Chester, Daniel Curewitz, Olivier Fabbri, David Goldsby, Chun-Feng Li, Arito Sakaguchi, Akito Tsutsumi, and Asuka Yamaguchi) greatly contributed to the shipboard data collection and post-cruise sample treatment and measurement presented here. We would like to give special thanks to Akito Tsutsumi, Asuka Yamaguchi, Arito Sakaguchi, Yuri Fialko, Jun Kameda, Yoshitaka Hashimoto, Haruka Yamaguchi, and Shoichi Toh for their collaborative research in the field and laboratory. We owe thanks to Arito Sakaguchi and Asuka Yamaguchi for providing original graphics in Figures 6 and 7, respectively; to Francesca Meneghini for original photomicrographs in Figures 10f, 12b, and c; Christie Rowe for an original outcrop photo in Figure 12a; Jun Kameda and Tsuyoshi Ishikawa for original graphics in Figures 13b and 15, respectively; and to Ake Fagereng for original photos and graphics in Figure 16. We thank two anonymous reviewers, Francesca Meneghini, and Casey Moore for their helpful comments and editing. This research was funded by the Ministry of Education, Culture, Sports, Science and Technology of Japan through grant no. 21107005.
Authors' Affiliations
(1)
Graduate School of Life and Environmental Sciences, University of Tsukuba, Tsukuba, Japan
(2)
Research and Development Center for Ocean Drilling Science, Japan Agency for Marine-Earth Science and Technology, Yokosuka, Japan
(3)
Department of Earth and Planetary Science, The University of Tokyo, Bunkyo-ku, Japan
Copyright
© Ujiie and Kimura; licensee Springer. 2014
This article is published under license to BioMed Central Ltd. This is an Open Access article distributed under the terms of the Creative Commons Attribution License (http://creativecommons.org/licenses/by/2.0), which permits unrestricted use, distribution, and reproduction in any medium, provided the original work is properly credited.