Correction to: Late Holocene uplift of the Izu Islands on the northern Zenisu Ridge off Central Japan
Progress in Earth and Planetary Science
2017
4:35
Received: 6 November 2017
Accepted: 6 November 2017
Published: 30 November 2017
The original article was published in Progress in Earth and Planetary Science 2017 4:30
In the publication of this article (Kitamura et al.,
2017
), there was an error in Fig. 11. It should not have indicated figures 'Specimen of an emerged barnacle', 'Study area' and their captions and the caption of the Fig.
11
itself was indicated twice. The erroneous figure incorrectly indicated all of the earlier mentioned errors.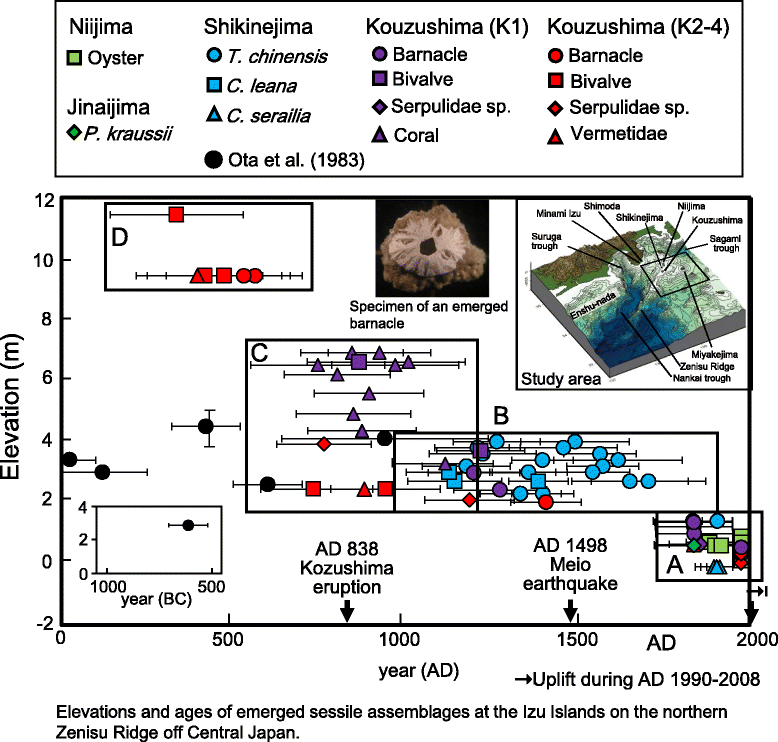 The correct Fig.
11
is shown in this erratum.
11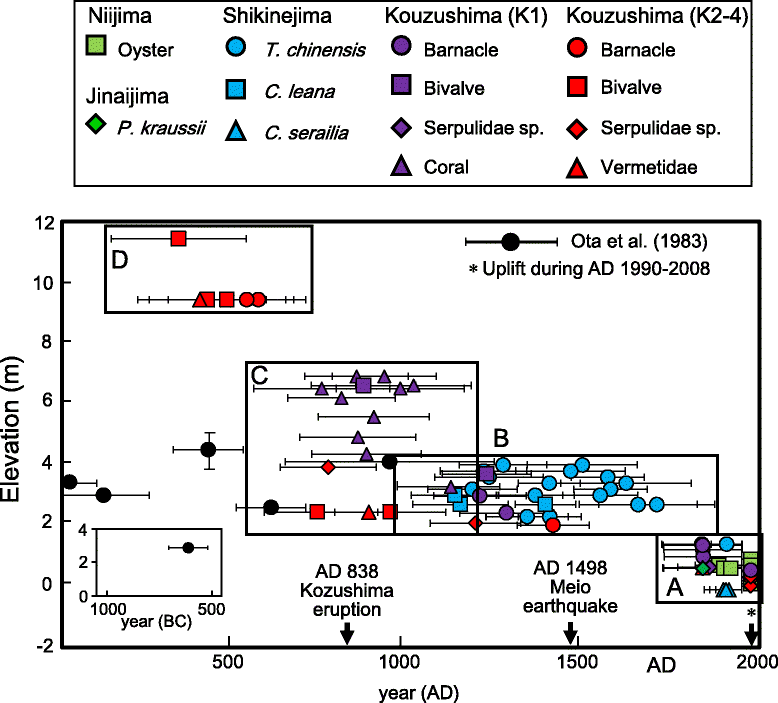 This has now been updated in the original article (Kitamura et al., 2017).
Open AccessThis article is distributed under the terms of the Creative Commons Attribution 4.0 International License (http://creativecommons.org/licenses/by/4.0/), which permits unrestricted use, distribution, and reproduction in any medium, provided you give appropriate credit to the original author(s) and the source, provide a link to the Creative Commons license, and indicate if changes were made.
(1)
Institute of Geosciences, Shizuoka University, 836 Oya, Suruga-ku, Shizuoka 422-8529, Japan
(2)
Center for Integrated Research and Education of Natural Hazards, Shizuoka University, 836 Oya, Suruga-ku, Shizuoka 422-8529, Japan
(3)
Atmosphere and Ocean Research Institute, University of Tokyo, Chiba 277-8564, Japan
(4)
Tottori University of Environmental Studies, 1-1 Wakabadai-kita, Tottori 689-1111, Japan