Research article
Open Access
Possible climate preconditioning on submarine landslides along a convergent margin, Nankai Trough (NE Pacific)
Progress in Earth and Planetary Science
2017
4:20
Received: 11 October 2016
Accepted: 3 July 2017
Published: 25 July 2017
Abstract
Submarine landslides are major agents of sediment mass transfer from the shallow to deep sea. Due to their rapid emplacement and tsunamigenic potential, such landslides are significant geohazards for society and off- and on-shore infrastructure. The relationship between climate change and the occurrence of submarine landslides is widely debated. However, there is a lack of continuous long-term submarine landslide records with which to comprehensively understand the relationship between climate-driven forces and submarine landslide occurrence. Here, using oxygen isotope stratigraphy in combination with tephrochronology, we date a 1 Myr continuous record of six landslide deposits (at 13.0–14.2, 323–339, 372–384, 394–413, 508–521, and 857–867 ka) recorded in a slope basin of the Nankai Trough subduction zone, off-shore Japan, which represents the major outcome of this study. The ages of the six landslides coincide mostly with interglacial periods. Thus, we propose that climate forcing might act as a preconditioning factor for slope instability in this active tectonic region.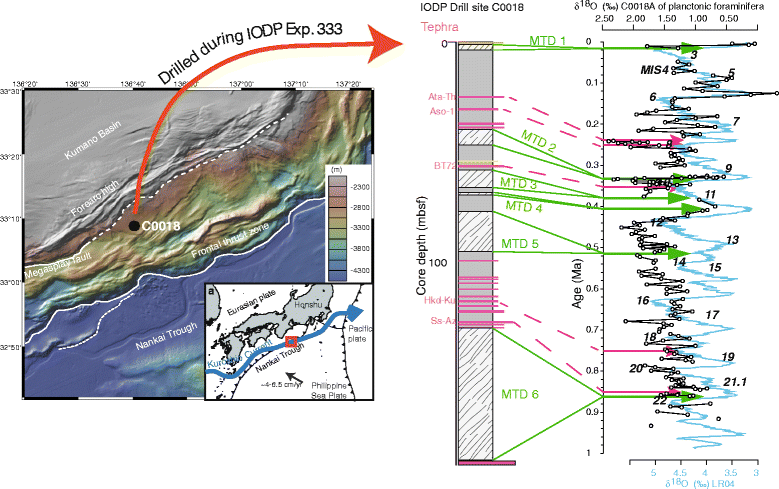 Keywords
Mass transport depositNankai Troughδ18O isotope stratigraphyTephrochronologyClimate preconditioning
Introduction
Earthquakes are known to trigger submarine landslides in subduction zones, and these landslides can potentially amplify the generated tsunami wave (Kawamura et al. 2012; Strasser et al. 2013; Tappin et al. 2014), break strategically important undersea cable networks, and undercut structural foundations for oil and gas pipelines (Masson et al. 2006). However, not all recent megathrust earthquakes have produced large landslides (Henstock et al. 2006; Völker et al. 2011). In such regions, the recurrence of submarine landslides is lower than the earthquake frequency (Behrmann et al. 2014; Strasser et al. 2011), suggesting that earthquakes might represent the final trigger but not the main forcing mechanism for the generation of landslides in all regions. Nevertheless, in terms of mitigating hazards related to submarine landslides, it is important to understand their frequency and causative factors.
Drill site C0018 of the Integrated Ocean Drilling Program (IODP) in the Nankai Trough was chosen to provide unprecedented long-term records of submarine landslides in a convergent margin setting (Fig.
1
). Although this margin is characterized by magnitude 8+ earthquakes occurring every ~150 years on average (Ando
1975
), only six large landslide deposits (herein referred to as mass-transport deposits, MTDs) are recognized in the sedimentary record of drill site C0018 during the past 1 Ma (Henry et al.
2012
). In this region, repeated periods of intensified mass wasting lasting a few hundreds of thousands of years have coincided with pulses of enhanced tectonic activity along a margin-dominating out-of-sequence thrust (megasplay) (Strasser et al.
2009
), where slope oversteepening, an extensional stress regime, and the lateral transmission of fluid overpressures may have preconditioned the slope sediments to fail (Ikari et al.
2011
; Strasser et al.
2011
). However, the age model of the sedimentary record is constrained solely by bio- and magnetostratigraphy and two tephra ages (Ss-Az and Ss-Pnk) that date the emplacement of the oldest and largest MTD 6 to between 0.85 and 1.04 Ma (Henry et al.
2012
). Thus, with the current age resolution, it is not possible to constrain the precise timing of individual MTDs, and we cannot resolve the complex interplay between tectonic and submarine landslides vs. other driving mechanisms such as climatic and oceanographic conditions that control sea-level change, sedimentation patterns, and gas hydrate stability. To better understand the preconditioning factors and triggers of submarine landslides in this highly active tectonic region, here, we present a long-term age model based on the δ
18
O isotope stratigraphy of planktonic foraminifera in combination with tephrochronology to date MTDs in the Nankai Trough.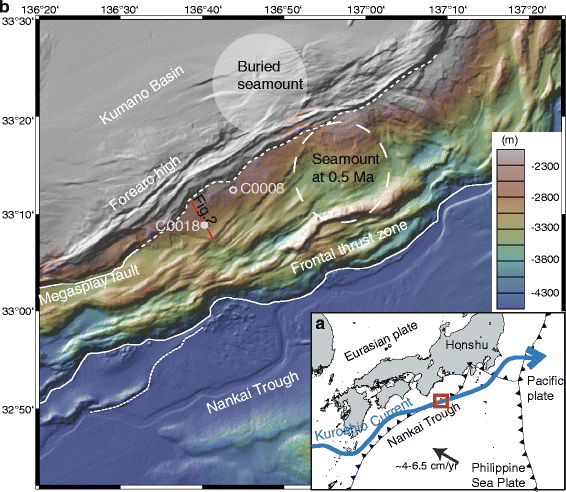 Regional setting and MTDs
The Nankai Trough is a convergent plate boundary where the Philippine Sea Plate is subducting beneath the Eurasian Plate, southwest from the Japan coast, at a rate of 4.1–6.5 cm/year (Seno et al. 1993). A SE to NW transect (Kumano transect) across the region can be divided into six morphotectonic zones: trench, frontal thrust zone, imbricate thrust zone, megasplay fault zone, Kumano Basin edge fault zone, and the forearc (Kumano) basin (Moore et al. 2009). The studied sediment sequence was retrieved from a slope basin located ~3 km seaward of the outer forearc high, which constitutes a natural boundary between the Kumano forearc basin and the outer Nankai accretionary prism (Fig. 1; Henry et al. 2012; Strasser et al. 2011).
The basin is isolated from the shore, shelf, and forearc basin, and water depth reaches ~3000 m. This basin represents the depocenter of downslope mass transport from the forearc high and megasplay fault zone (Figs.
1
and
2
), as imaged by 3D seismic reflection data (Henry et al.
2012
; Strasser et al.
2011
). Acoustically transparent to chaotic facies with truncated reflections at the base are interpreted as MTDs that occur within the upper seismic unit 1a (SU1a; Fig.
2
).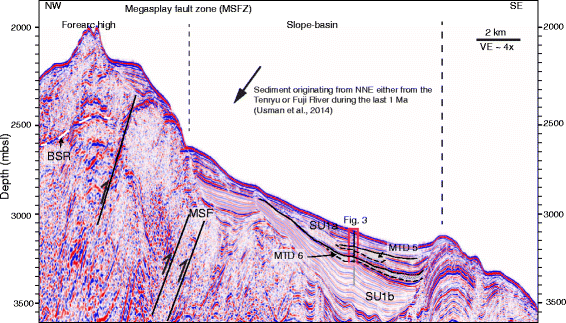 Within seismic unit 1b (SU1b), low-amplitude wedges and layers thinning out toward the basin flanks are also interpreted as MTDs. The MTDs imaged in the seismic reflection data show thicknesses of between 20 and 50 m and extend laterally over several kilometers along strike (Strasser et al.
2011
). Site C0018 was drilled where the MTDs wedge out, and basal erosion by the MTDs is minimal (Henry et al.
2012
). The ~300 m thick sediment sequence drilled at C0018 is subdivided into two lithological units (U1a and U1b) that correlate with seismic units SU1a and SU1b, respectively, (Figs.
2
and
3
; Strasser et al.
2012
). U1a corresponds to the upper Pleistocene sediments that are ~200 m thick (Fig.
3
) and is composed of bioturbated hemipelagic mud with subhorizontal and SE-dipping volcanic ash layers that are a few centimeters thick, and is intercalated with a succession of six MTDs (MTD 1 to MTD 6; Fig.
3
; Henry et al.
2012
; Strasser et al.
2012
). The MTDs are recognized based on their chaotic pebbly and/or mixed lithologies with inclined layers and shear zones (Henry et al.
2012
; Strasser et al.
2012
). The tops of MTDs 1, 2, and 6 are well defined and, in the cases of MTDs 2 and 6, marked by an overlying turbidite (Fig.
4
; Strasser et al.
2012
). X-ray computed tomography (X-CT) images were used to identify the bases of the MTDs (Strasser et al.
2012
). Lineations formed by pyrite mineralization/concretions and low discontinuities associated with increased X-CT values are interpreted as shear zones. These shear zones represent the bases of MTDs 2, 3, and 5 (Strasser et al.
2012
). The thicknesses of the MTDs within the U1a section vary from 0.5 to 61 m, with a cumulative thickness of 98 m (Table
1
).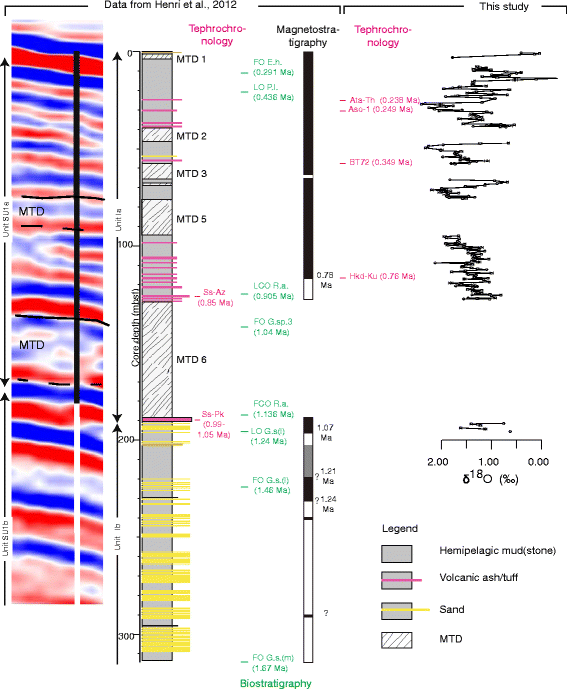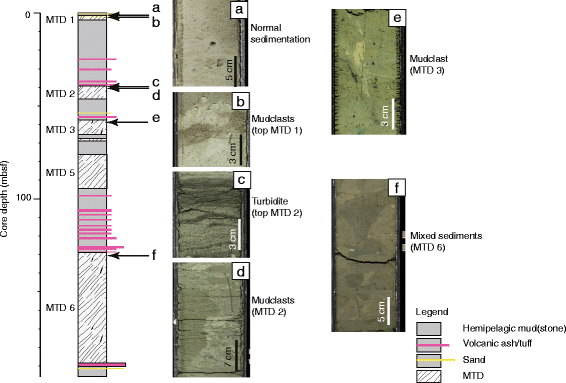 Table 1
Summary of lithological features characterizing MTDs at site C0018
| MTD | Thickness (m) | Top (m) | Bottom (m) | MTD-corrected depth (m) | Characteristics |
| --- | --- | --- | --- | --- | --- |
| MTD 1 | 2.9 | 1.4 | 4.3 | 1.4 | Mudclast bearing sediments and convolute bedding |
| MTD 2 | 7.3 | 39.5 | 46.7 | 36.5 | Coherent bedding bounded by shear zones and topped by 8 cm thick turbidite |
| MTD 3 | 7.7 | 58.0 | 65.7 | 47.8 | Mixed sediments and a 2 mm thick clay layer as potential shear zone at the base |
| MTD 4 | 0.5 | 66.4 | 66.9 | 48.8 | Fluidized ash layer as primary structure but deformation due to coring disturbance and gas expansion cannot be excluded |
| MTD 5 | 18.5 | 75.9 | 94.4 | 58.1 | Mixed sediments, mud clasts, convolute bedding, tilted strata with a sharp lower boundary (X-CT) as shear zone at the base |
| MTD 6 | 61.0 | 127.6 | 188.6 | 91.2 | Chaotic and convolute bedding and mixing of ash with hemipelagic deposits intercalated with coherently bedded sediments; shear zones (X-CT) cannot be associated to the base; the base is defined as the top of underlying ash layer; 8 cm thick turbidite as upper boundary |
The lowermost 100 m of lithological unit U1b is composed of hemipelagic sediment intercalated with turbidites and tephra layers of millimeter to centimeter scale. No MTD-features are recognized in U1b. Our study focusses on the upper 200 m of lithological unit U1a.
Conclusions
Using a combination of isotope stratigraphy and tephrochronology, we present a 1 Ma record of MTDs in the Nankai Trough, offshore Japan. All of the MTDs occurred within interglacial periods, which might indicate climate is a key preconditioning agent for landslide generation. The occurrence of MTDs also coincides with changes in the tectonic framework, which therefore might also precondition slope failures, but whether an earthquake constitutes the final trigger cannot be resolved from the resolution of the data. Our conclusion is that within the investigated 1 Ma period, the relative contributions of tectonic vs. climate preconditioning factors cannot be simply resolved. Therefore, based on our single drill site, our discussion on various forcing mechanisms, including both tectonic and climatic, remains speculative. Further studies are needed to establish long-term, continuous MTD records to better elucidate the preconditioning factors that govern slope failures.
Declarations
Acknowledgements
This research used samples provided by the Integrated Ocean Drilling Program (IODP). This work was founded by the Swiss National Science Foundation (number 133481). GP and SV are supported by the Norwegian Research Council through its Centre of Excellence funding scheme (number 223259). KK is currently working at the Swiss Seismological Service, ETH Zurich (Switzerland). We thank Ursula Brupbacher for picking the foraminiferas and the climate geology group of ETH Zurich for measuring the isotope composition. We also thank two anonymous reviewers and the editor, Ken Ikehara, for helpful reviews.
Authors' contributions
MS proposed the topic. MU and KK carried out the experimental study. KK analyzed the data. YS and YN provided the tephra data. SV and GP helped with the interpretation. KK wrote the manuscript with the contribution of all authors. All authors read and approved the final manuscript.
Competing interests
The authors declare that they have no competing interests.
Publisher's Note
Springer Nature remains neutral with regard to jurisdictional claims in published maps and institutional affiliations.
Open AccessThis article is distributed under the terms of the Creative Commons Attribution 4.0 International License (http://creativecommons.org/licenses/by/4.0/), which permits unrestricted use, distribution, and reproduction in any medium, provided you give appropriate credit to the original author(s) and the source, provide a link to the Creative Commons license, and indicate if changes were made.
Authors' Affiliations
(1)
Geological Institute, ETH Zurich, Zürich, Switzerland
(2)
Present address: Swiss Seismological Service, ETH Zurich, Zurich, Switzerland
(3)
Lake Biwa Museum, Kusatsu, Japan
(4)
Faculty of Symbiotic Systems Science, Fukushima University, Fukushima, Japan
(5)
Centre for Arctic Gas Hydrate, Environment and Climate (CAGE), Department of Geosciences, UiT The Arctic University of Norway, Tromsø, Norway
(6)
Institute of Geology, University Innsbruck, Innsbruck, Austria