Installing artificial macropores in degraded soils to enhance vertical infiltration and increase soil carbon content
Progress in Earth and Planetary Science
2014
1:30
Received: 2 July 2014
Accepted: 21 November 2014
Published: 18 December 2014
Abstract
Of all terrestrial media (including vegetation and the atmosphere), soil is the largest store of carbon. Soils also have important functions such as water storage and plant support roles. However, at present, these characteristics do not fully function, because of, for example, climate-change-induced heavy rainfall would wash away the organic-rich surface soils. In this study, artificial macropores were introduced into exposed soil plots for the purpose of enhancing infiltration, and fibrous material was inserted to reinforce the macropore structure. As expected, the capillary force caused by the fibers drew surface water deeper into the soil profile before saturation. Additionally, the same capillary force promoted vertical transport, while micropores (matrix) enhanced horizontal flow. Our results show that infiltration was more effective in the fiber-containing macropores than in empty macropores. Additionally, our column experiments showed that artificial macropores reduced surface runoff when the rainfall intensities were 2, 4, and 20 mm · h−1 but not for 80 mm · h−1. In field experiments, soil moisture sensors installed at depths of 10, 30, and 50 cm responded well to rainfall, showing that artificial macropores were able to successfully introduce surface water into the soil profile. One year after the artificial macropores were installed, a field survey carried out to assess soil organic matter and plant growth showed that plant biomass had doubled and that there was a significant increase in soil carbon. This novel technique has many advantages as it mimics natural processes, is low cost, and has a simple structure.
Keywords
MacroporeInfiltrationSoil degradationCarbon sequestration
Background
Soil, the largest of all terrestrial carbon stores, contains as much as three times the amount of carbon stored in vegetation and two times that stored in the atmosphere (Eswaran et al. [1993]). Soils also have important functions such as water storage and plant support roles. However, at the present time, these soil capabilities are progressively being weakened because of climate change (IPCC [2013]). Meteorological measurements have shown that, in the last 30 years, heavy rainfall events in excess of 50 mm · h−1 have increased in Japan (The Japan Meteorological Agency [2013]). Such heavy rains sometimes produce a crust or hardpan at the soil surface, which degrades infiltration. This, in turn, increases the risk of soil erosion, even in temperate zones, where the climate is generally moderate.
In addition to the increased number of heavy rainfall events, the amount of improperly managed agricultural land in Japan is increasing because of manpower limitations caused by an aging society (Ministry of Agriculture, Forestry and Fisheries [2011]; Oohara [2007]). Land use makes a crucial contribution to the hydrological cycle, but it can be strongly influenced by management practices. For example, soil erosion may occur in abandoned agricultural fields (Osawa et al. [2004a], [2004b]), and bare ground is often visible in forest plantations when thinning operations have been delayed (Miyamoto et al. [2013]), as well as in areas where sunlight is blocked and understory vegetation is rare (Kiyono [1988]; Yukawa and Onda [1995]). In such settings, the infiltration rate may be low and organic matter content decreases sharply with profile depth.
Enhancing soil infiltration would increase both its water-retention capacity and its organic matter content. In the soil and agricultural sciences, infiltration improvement usually involves cultivation to soften the surface soils. However, cultivation can dry the soils, and heavy rainfall can wash away organic-rich surface layers (Osawa et al. [2004a], [2004b]. Therefore, since cultivation or surface soil softening is often a suboptimal choice for restoring ill-drained soils, this study examines a method for improving soil infiltration without cultivation.
Macropores are naturally occurring continuous apertures such as wormholes, root channels, or inter-aggregate pores. In general, macropores are notorious for causing bypass flow and interfering with the proper use of applied chemicals because their irregular structures make it hard to produce accurate estimates based on infiltration theory, which assumes that soil is an isotropic material (e.g., Beven and Germann [1982]). However, recent experimental evidence suggests that preferential flow tends to be the rule rather than the exception under field conditions (Flury [1996]). Moreover, by promoting intensive flows of water and nutrients, soil macropores have been recognized as a food source for soil microflora and fauna (Angers and Caron [1998]). Based on the above, we decided to explore macropore characteristics in order to determine how they contribute to water and solute transport in soils.
To date, many authors have studied the characteristics of root channels or macropores. Although natural soil pore structures may seem irregular, if examined in detail, it is clear that their structures develop in an orderly manner. In macro-porous soils, the solute infiltration region drastically changes when the water content and boundary conditions for infiltration change (Mori et al. [1999a], [1999b], [2001]). For example, when a soil column was saturated (suction = 0 kPa) water was preferentially introduced into macropores (Mori et al. [1999a]). Additionally, when the infiltration velocity was maintained at 1/10 of the saturated hydraulic conductivity and the matric potential at the matrix was maintained at −3 kPa, (empty) macropore bypass flow disappeared and solutes were distributed throughout the whole soil body (Mori and Higashi [2009]). Therefore, artificial macropores were created to facilitate effective vertical infiltration. However, empty artificial macropores were found to clog easily, which prevents infiltration from continuing for prolonged periods (Mori and Hirai [2014]). Subsequently, thin section observations showed that natural macropore walls were coated with clay, organic matter, and natural polymers (Mori et al. [1999b]) and that since empty artificial macropores do not have these coatings, they are easily prone to clogging and collapse. Such bio-clogging was avoided when artificial macropores were filled with fibrous material, and solutes were successfully transported into the soil profile over prolonged periods (Mori and Hirai [2014]). More specifically, the fiber-filled macropore structure permitted vertical infiltration, while the micropore or matrix facilitated solute distribution into the soil body, thereby achieving effective bioremediation (Mori and Hirai [2014]).
In the current study, we designed artificial macropores filled with fibrous material based on what we have learned about the natural structure of soil. For example, poor drainage causes surface runoff and soil loss, which are considered to be major causes of land degradation. Therefore, we designed a method to enhance vertical infiltration of poorly drained soils, based on our belief that if bare land with poor vegetation or low soil organic matter could be improved using our infiltration technique, it would be possible to prevent surface runoff, and thus nutrients and organic matter could be successfully delivered to the whole soil body. This, in turn, would help restore the soil environment.
Accordingly, the objective of this study was to create artificial macropores in soils where poor drainage is one of the causes of land degradation and to thereby improve infiltration, increase the organic matter content, and promote vegetation growth.
Methods
Design of the artificial macropore
An example of a three-dimensional X-ray computed tomography image (InspeXio CT-90; Shimadzu, Kyoto, Japan) for natural soil is shown in Figure
1
. This image was taken using the technique outlined by Mori et al. ([
1999a
], [
1999b
]). The soil sample was obtained from a gray lowland paddy field at a depth of 50 cm. It is clear from this image that the pore structure extends both vertically and horizontally. These pore shapes reflect the plant roots, and macropore structures of this nature were ubiquitous in the sample.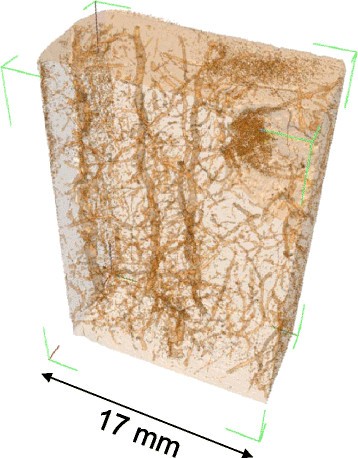 We then attempted to improve the process of infiltration in exposed soils by creating artificial macropores that mimic the natural macropore structure. As described in our earlier study, prototype artificial macropores (Mori and Hirai [
2014
]) can successfully deliver solutes into the whole soil body. In this paper, we designed artificial macropores (Figure
2
) with the following characteristics:
a.

Glass fiber, a fibrous material, was inserted into an artificial macropore to reinforce the structure in order to mimic the soil fauna wall coating that occurs in the case in natural macropores.

b.

The fibrous material produced a capillary force that draws surface water downward and produces vertical infiltration.

c.

The anisotropy in vertical/horizontal infiltration of fibrous material was used to effectively introduce vertical flow, which is different from pellet or powder fillings.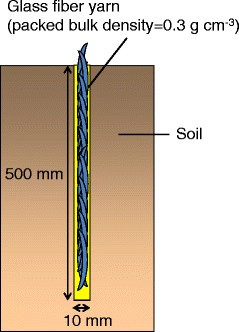 In this study, the fibrous material was installed so that its upper point protruded above the ground in order to help counteract flood-related problems. Specifically, it was thought that, in flood conditions, small soil particles would easily clog or encrust the macropores at the surface level, so a self-supported 1 to 2 cm protrusion would provide a more accessible infiltration pathway to the macropores and thus draw water deeper into the soil profiles.
Figure
3
shows the designed soil water-retention curve of the examined red-yellow soils and glass fiber fillings. As can be seen in the figure, there were significant differences in water-retention capacities. Artificial macropores with glass fiber fillings had large pore volumes of 0.7 to 0.8 m
3
 · m
−3
and released water easily when suction was applied because the pore structure was rough and large. Furthermore, there was a steep decline in water content between several to several tens of cmH
2
O, owing to the uniform capillary pore structure produced by the fiber. However, the examined soils had lower saturated water content and did not release water easily because of their clay content. These differences in water-retention characteristics emerged at the intersection of each characteristic curve. When soil was saturated, such as after a heavy rainfall event that left water on the surface, capillary force exerted by the glass fiber would draw the surface water deeper into the soil profile. When the water content decreased and suction occurred in the soil matrix part, i.e., below the intersection point, the soil matrix played a major role in facilitating drainage. At such times, rainfall might be expected to be more effectively delivered to the soil profile, thereby avoiding surface runoff.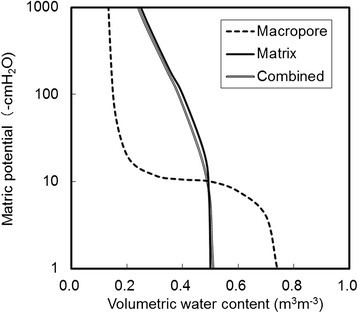 The double line shows the combined characteristics of the designed soil. The small volume of artificial macropores (see Figure 2) does not change the water-retention capacity of native soils, but rather, it increases the ease of infiltration without changing the water-retention capacity.
Water-retention curves were also measured for actual glass fibers and soils in order to more properly evaluate our theory. In this investigation, glass fibers and soils were independently packed into 100 mL core samplers, after which hanging water column experiments (Klute and Dirksen [1986]) were conducted for each glass fiber and soil column in order to measure water-retention curves.
Column infiltration experiment
As a preliminary experiment, we carried out infiltration testing during which artificial rainfall was applied and the drainage capacity of the artificial macropores was evaluated. First, we collected undisturbed red-yellow soil samples in cylindrical columns (5 cm in diameter and 10.2 cm long) from land adjacent to the Education and Research Center for Biological Resources (35° 31′N to 133° 06′E), Shimane University, Japan, which is the site of this study. The average particle densities, porosity, and saturated hydraulic conductivities of the samples were 2.76 g · cm−3, 0.515 cm3 · cm−3, and 7.64 × 10−4 cm · s−1, respectively.
Figure
4
shows the experimental setup. Each soil sample was set into a pressure cell with a membrane filter (0.5 μm) set at the sample bottom. A drainage tube was set so that suction of 2.4 kPa was applied gravitationally. Next, an artificial macropore was created in the center of the column using the following procedure. First, a stainless pipe (0.6 cm in diameter) was used to hollow out and remove the excessive soil. Then, the glass fiber was inserted into the gap at a packed density of 0.30 g · cm
−3
, thereby creating an artificial macropore from fibrous materials. After saturation from the bottom, soil samples were drained for 24 h to release the gravitational water. A membrane filter was then placed at the top of the sample to attenuate the effect of raindrop impacts, after which 200 cm
3
of artificial rainfall was applied through a tube via a peristaltic pump. The rainfall intensities and durations were 2, 4, 20, and 80 mm · h
−1
and 50, 25, 5, and 1.25 h, respectively. After the rainfall, drainage water was collected for 120 h to ensure the soil reached equilibrium.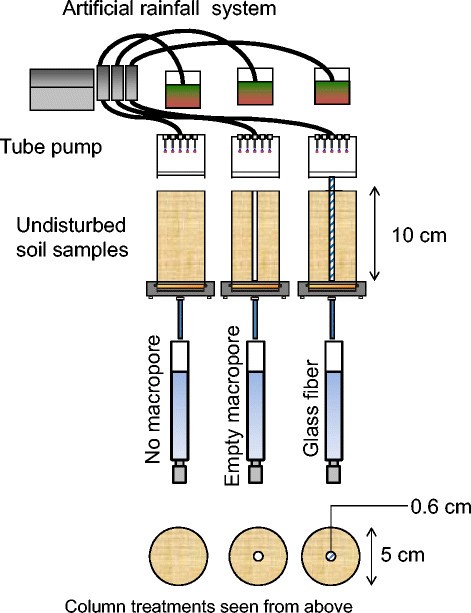 Field experiment
In this section, we explain field experiments carried out to enhance the vertical infiltration of
in situ
soil at the Shimane University study site, which was located on a mountain side. The characteristics of the red-yellow soil studied are described in Table
1
. These soils were sampled using a soil auger when we installed the soil moisture sensors and found to be clayey, dispersive, and poor in organic matter. Thus, when used for agriculture, additional fertilizer is highly recommended.
Table 1
Initial condition for examined soils
Treatment

Control plot

Macropore plot

X10

X30

X50

M10

M30

M50

Depth (cm)

10

30

50

10

30

50

Clay (%)

20.9

23.7

25.1

20.1

23.8

23.8

Silt (%)

70.9

71.6

71.4

69.2

71.4

69.7

Sand (%)

8.2

4.7

3.5

10.7

4.8

6.5

VWC (m3m-3)

0.11

0.29

0.34

0.10

0.30

0.28

TC (%)

1.39

0.26

0.39

1.26

0.28

0.37
Flat plots (200 × 80 cm) were selected for our experimental sites. Three replicate plots (33 × 80 cm each) were prepared for each soil treatment, macropore and control. The vegetation was removed in July 2008, after which 50 cm deep artificial macropores (Figure
2
) were installed 20 cm apart (see Figure
5
). Soil moisture sensors (Hydra Probe II; Stevens Water Monitoring Systems, Inc., Portland, OR, USA) were then installed between the artificial macropores at depths of 10, 30, and 50 cm to monitor the infiltration effectiveness of the artificial macropores. A control area was also established to allow us to compare two treatments, macropore and control.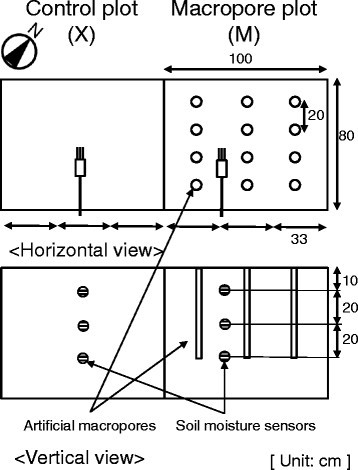 The experimental plots were monitored by soil moisture sensors until April 2009, after which soil samples were collected from 10, 30, and 50 cm depths using a soil auger in order to measure total carbon (TC). Roots were eliminated when they were observed, and TC was measured by a C/N macro coder (CN-1000; J-Science Lab. Kyoto, Japan.). Plants were also sampled at the ground level (0 cm depth) in order to measure plant biomass amounts. Since the plants were cut at ground level, this plant biomass did not include roots. Plant species were identified based on their morphological features, after which they were oven dried at 60°C to obtain their dry weight measurements.
Conclusions
To help restore poorly drained soils and enhance their organic matter levels, vertical infiltration was improved via the introduction of an artificial macropore with fibrous fillings. In this study, we used a glass fiber as the filling material and examined its soil water-retention curve. Data from its field application were recorded using a soil water sensor, and the resultant plant biomass and total soil carbon were measured. The results of our experiments have allowed us to make the following conclusions:
1.

The proposed artificial macropore system has clear advantages over poorly drained soils because the artificial macropore enhanced the vertical infiltration of the soil, while the fibrous fillings reinforced both the macropore structure and capillary drainage.

2.

In our field test, rainfall was successfully introduced into the soil profile up to depths of 50 cm, passing through 30 cm, as detected by the soil water sensor. However, in our laboratory tests, the artificial macropore did not function effectively at 80 mm · h−1 rainfall levels, which are occurring with increasing frequency these days.

3.

Plant biomass in the macropore plot was almost double that in the control plot, and soil carbon was found to have increased significantly in the macropore plot compared with the control plot. The artificial macropore successfully introduced surface water and organic matter into soils, which then stimulated vegetation growth.

4.

The average TC increment in the macropore plot was calculated as 0.0012 g-C · g-soil−1 · yr−1. The number was converted to 7.0 t-C · ha−1 · yr−1, which corresponded well with the increment for pasture management and afforestation.
This is the first time that an artificial macropore with glass fiber fillings has been used to promote the recovery of a degraded field. This material is durable, non-organic, and industrially processed, so it can stay in the field for a long time. However, it would be preferable to use natural materials.
Authors' information
Research fields of the authors: YM, soil physics/geophysics/environmental engineering; AF, soil physics/geophysics/environmental engineering; KY, agronomy/plant sciences/environmental management.
Declarations
Acknowledgements
The authors are grateful to the MSc and BSc students who have supported the field experiments since their inception in 2008. This work was partially supported by the Japan Society for the Promotion of Science, NEXT program (GS021) 2011 to 2014 and a Grant-in-Aid for Scientific Research (B), 26292127, 2014 to 2016 and (C), 18510074, 2006 to 2008. The authors are also grateful to the Japanese Science and Technology Agency for support through their Research for Promoting Technological Seeds fund in 2009.
Authors' Affiliations
(1)
Graduate School of Environmental and Life Science, Okayama University, Okayama, Japan
(2)
Graduate School of Life and Environmental Science, Shimane University, Matsue, Japan
Copyright
© Mori et al.; licensee Springer. 2014
This article is published under license to BioMed Central Ltd. This is an Open Access article distributed under the terms of the Creative Commons Attribution License (http://creativecommons.org/licenses/by/4.0), which permits unrestricted use, distribution, and reproduction in any medium, provided the original work is properly credited.