Natural moissanite (SiC) – a low temperature mineral formed from highly fractionated ultra-reducing COH-fluids
Progress in Earth and Planetary Science
2014
1:27
Received: 15 September 2014
Accepted: 30 October 2014
Published: 13 December 2014
Abstract
Natural moissanite (SiC) is reported from dozens of localities, most commonly from ultramafic rocks where it may be associated with diamond and iron silicides. Yet, formation conditions of moissanite remain in the realm of speculation. The key property of SiC is its extremely reduced nature. We have experimentally equilibrated SiC with olivine and orthopyroxene at 1300-1700°C, 2 and 10 GPa, to determine the oxygen fugacity of the C + orthopyroxene = SiC + olivine + O2 buffer (MOOC) and the equilibrium X Mg of coexisting mantle silicates. The experiments resulted in olivine and orthopyroxene with X Mg of 0.993-0.998 in equilibrium with SiC and iron silicides. Calculated oxygen fugacities are 5-6.5 log units below the iron-wustite (IW) buffer at 2-10 GPa. The experimental results concur with calculated phase relations for harzburgitic mantle under reducing conditions that include metal alloys, carbides and silicides. The extremely reducing character of SiC precludes coexistence with silicates with appreciable Fe2+, and hence excludes equilibrium with mantle phases with typical X Mg 's of ~0.9. Calculated Fe-Mg diffusion lengths reveal that SiC grains of 1 mm would react with the Fe-component of olivine to iron carbide or metal and orthopyroxene within <1 Ma at temperatures above 800°C. We thus conclude that SiC forms through a low-temperature process (<700-800°C) where equilibrium is only reached at the grain scale. The most plausible formation mechanism is a strong fractionation of a C-O-H fluid from metamorphosed sediments originally rich in organic material. Such a fluid is initially saturated with graphite or diamond and is slightly more reduced than the H2O-C join. Fluid percolation in the mantle leads to H2O-sequestration by crystallizing hydrous phases (most likely serpentine, brucite or phase A), and hence O2-removal from the fluid causing its reduction and continuous graphite or diamond precipitation. A small, highly fractionated fluid fraction may then reach CH4 and H2 concentrations that allow SiC formation on grain boundaries without equilibration with the bulk rock on a larger scale. Such a mechanism is corroborated by the strongly negative δ13C of moissanites (-20 to -37), consistent with reduced fluids originating from metamorphosed organic carbon.
Keywords
MoissaniteSiCUltra-reducingIron silicides and carbidesCOH-fluidFluid-fractionation
Background
Moissanite is a refractory mineral stable at extremely reducing conditions with respect to typical Earth environments. Natural occurrences are manifold (Lyakhovich, [1980]; Trumbull et al. [2009]) but many fall into three categories: (i) peridotites, serpentinites (Xu et al., [2008]) and podiform chromitites (Bai et al., [2000]); (ii) kimberlites (Leung et al., [1990]; Shiryaev et al., [2011]); and (iii) metasomatic rocks (Lyakhovich, [1980]; Di Pierro et al., [2003]). In most cases, moissanite is recovered from heavy mineral separates with little textural and phase assemblage information available. Often Fe-silicides or metallic Si are attached to SiC grains (Trumbull et al. [2009]), there are also diamonds which contain moissanite inclusions (Gurney [1989]; Leung, [1990]).
The genesis and crystallization conditions of natural SiC remains unclear, nevertheless, agreement exists about the extremely reduced nature of moissanite. This property has led to hypotheses such as moissanite being a remnant from a primordial ultra-reduced mantle or from the core-mantle boundary as discussed by Mathez et al. ([1995]). The extreme oxygen fugacities required for moissanite formation have also led to propose extremely high temperatures and/or pressures of formation (Trumbull et al., [2009]), in part motivated by a not uncommon association with diamonds, in part probably motivated by the high temperature synthesis practiced for industrial SiC. As conditions in the upper mantle would not allow moissanite to be stabilized at the predominant oxygen fugacities near the iron-wustite (IW) reference equilibrium (Ballhaus [1995], Woodland and Koch [2003], Frost and McCammon [2008]), moissanite has been hypothesized to stem from the lower mantle (Mathez et al., [1995]).
The most basic fact pertinent to moissanite genesis is that the quartz + C = SiC + O2 equilibrium is at oxygen fugacities ≥5-7 log units below those of the iron-wustite buffer (Mathez et al. [1995]; Ulmer et al., [1998]). At such low oxygen fugacities, most Fe2+ should be reduced to metal. Consequently, coexisting mantle phases such as olivine and orthopyroxene should have unusually high X Mg values.
Inspiration for the low temperature hypothesis which forms the starting point of this study stems from a moissanite location in a Cenozoic basalt from North China, where SiC appears in mantle xenoliths infiltrated by carbonatites (Gao and Liu, [2008]); these composite xenoliths are in turn erupted by alkali basalts. Clinopyroxene, orthopyroxene and olivine in these xenoliths have average mantle X Mg values near 0.90 and abundant interstitial calcite with no indication for a reduced environment. Nevertheless, moissanite and a panoply of metals (Fe, FeNiSi-alloy, Ti) and Fe-silicides occur in these xenoliths but are constrained to small voids. The close spatial occurrence of an assemblage (i.e. calcite + mantle silicates) requiring oxygen fugacities close to the CCO buffer (graphite/diamond-CO-CO2, i.e.) with another assemblage requiring oxygen fugacities 10 log-units below this buffer motivates the formulation of a low-temperature hypothesis. In this model, the SiC in the voids would be precipitated from an ultra-reduced highly fractionated fluid that is not in equilibrium with the adjacent silicate and carbonate phases of the xenolith itself.
In this study, we demonstrate experimentally that olivine and orthopyroxene in equilibrium with SiC are almost purely magnesian, containing only 2-7‰ of their Fe-endmembers. Consequently, close spatial association of moissanite and silicates with X Mg ≤0.9 demonstrates chemical disequilibrium and indicates temperatures lower than those allowing for diffusional equilibration. Secondly, we combine thermodynamic data for Si- and Fe-carbides, stoichiometric FeSi-compounds and FeSiC alloys with silicate data to compute P-T-f O2 phase relations, phase compositions and hence the stability of moissanite for an Fe-Mg-Si-O-C peridotitic bulk composition.
Methods
High pressure experiments
One set of experiments reacted San Carlos olivine (
X
Mg
 = 0.90) and a natural orthopyroxene from the Urals (
X
Mg
 = 0.91) with SiC at 2 GPa, 1300 and 1500°C; and at 10 GPa, 1500 and 1700°C (Table
1
). The 2 GPa experiments were performed in an endloaded, 14 mm bore diameter piston cylinder employing a talc–pyrex–graphite-MgO assemblage. The 10 GPa experiments were performed in a multi anvil employing 18 mm Cr
2
O
3
-doped MgO-octahedra on a 11 mm truncation. The multi-anvil assemblage contained a zirconia insulator, a stepped LaCrO
3
furnace, inner MgO pieces, and a Mo ring and disc between the furnace and WC cube truncation faces. In both apparatus B-type PtRh thermocouples were used. In experiment G#1 we intended to monitor oxygen fugacity by using an Ir sensor (Woodland and O'Neill, [
1997
]), but a ternary Fe-Si-Ir alloy resulted for which thermodynamic data are not available.
Table 1
Experimental phase compositions and calculated oxygen fugacity
P [GPa]

T [°C]

t [h]

X Mg olivine

X Mg opx

Metal or silicide [wt%]

SiC-C-ol-opx

Fe

Ni

Si

Ir

G#1

2

1300

48

---*

0.982(5)

8.1(26)

0.24(9)

59.4(43)

20.3(20)

+quartz

---

G#2

2

1500

15

0.997(1)

0.998(1)

77.4(13)

3.3(4)

18.0(4)

---

Fe2Si

-6.4

G#3

10

1500

72

---*

0.995(1)

60.3(10)

2.7(8)

35.0(17)

---

FeSi

(-4.9)**

46.6(21)

0.9(5)

49.5(16)

---

FeSi2

30.8(6)

1.3(2)

64.4(20)

---

FeSi4

G#6

10

1700

54

0.993(2)

0.995(1)

75.6(11)

2.6(9)

20.8(4)

---

Fe2Si

-5.6
A second set of experiments intended to synthesize SiC first at low temperature from tetrakis-silane (((CH3)3Si)4Si) or stearic acid (C18H36O2) and olivine + serpentine or talc + MgO at 500°C, 0.2 GPa. These experiments did not result in SiC or equilibrium assemblages. We then aimed at synthesizing SiC + magnesio-silicates at 1000-1600°C, 2-10 GPa employing talc + MgO and tetrakis-silane as starting materials. At 6 GPa, 1300°C we obtained SiC + olivine + opx, but the assemblage was unequilibrated with strong compositional zoning in the silicates and further experiments in this direction were abandoned.
Thermodynamic data
Thermodynamic databases suited for calculating phase equilibria in Earth sciences mostly contain only silicates and oxides. In order to perform calculations in mantle materials at ultra-reduced conditions, alloys, carbides and silicides were combined with silicate data from Holland and Powell ([2011]). The data sources employed were: Cementite (Fe3C): calorimetric data from Gustafson ([1985]), volume data from Li et al. ([2002]), Wood et al. ([2004]); Fe7C3: Djurovic et al. ([2011]), Mookherjee et al. ([2011]), Nakajima et al. ([2011]), Moissanite (SiC): Lacaze and Sundman ([1991]), Miettinen ([1998]), Aleksandrov et al ([1989]), Li and Bradt ([1987]). The FeSiC-alloy and the iron silicides are based on the 1-atm phase diagram by Lacaze and Sundman ([1991]) and on the volume EoS of Brosh et al. ([2009]). Details of the adoption of the ternary metal, carbides and silicides are given in a forthcoming paper (Golubkova et al. [2014]). Phase relations were computed by free energy minimization with the Perple_X software package (Connolly JAD [2009]).
Results
Phase equilibria and phase compositions
Experiments at 2 GPa, 1500°C (G#2) and 10 GPa, 1700°C (G#6) resulted in equilibrated olivine + orthopyroxene + SiC plus iron silicides (Table
1
, Figure
1
). The experiment at 10 GPa, 1500°C (G#3) resulted in coarse opx + SiC plus three iron silicides (FeSi, FeSi
2
, and FeSi
4
) and olivine that did not develop equilibrium rims large enough for measurement. These charges did not contain any residual silicates from the starting material, but in both the 1500°C and 1700°C experiments at 10 GPa, most of the San Carlos olivine disintegrated to an almost Fe-free olivine containing many submicron iron silicide inclusions (Figure
1
b). These inclusions are too small to determine their stoichiometry. The equilibrium
X
Mg
of olivine and opx in these experiments are 0.993-0.998 (Table
1
). Initially, we added Ir metal as internal oxygen fugacity monitor (Woodland and O'Neill, [
1997
]; Stagno and Frost, [
2010
]), this experiment (G#1) at 1300°C, 2 GPa yielded opx (
X
Mg
= 0.982) and quartz. However, abundant residual starting material San Carlos olivine testifies for incomplete equilibration questioning whether the
X
Mg
of the opx of this experiment corresponds to equilibrium with SiC. We have thus only used experiments #2, #3 and #6 for oxygen fugacity calculations.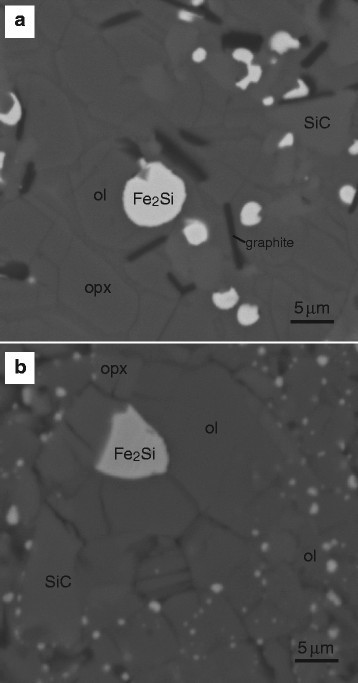 Oxygen fugacity (f O2 ) in the experiments
For the experiments, which yielded iron silicides and equilibrium compositions of olivine and orthopyroxene, oxygen fugacities were calculated from equilibrium (
1
) and (
2
), employing the olivine and orthopyroxene activity formulations from O'Neill and Wall ([
1987
]).
FeSi being a pure phase and
Fe
2
Si being a pure phase. This leads to
using the measured opx composition, log 
f
O 2
 = − 11.2 (5) or results for G#3 at 10 GPa, 1500°C. For the Fe
2
Si equilibrium (4)
measured olivine compositions yield log 
f
O 2
 = − 13.3 (10a, 10b) or for G#2 at 2 GPa, 1500°C; and log 
f
O 2
 = − 11.9 (4) or for G#6 at 10 GPa, 1700°C. For the two experiments G#2 and G#6, which resulted in equilibrated olivine and orthopyroxene, oxygen fugacities were also calculated from
SiC and graphite or diamond being pure phases. The resulting oxygen fugacities are log f O 2 = − 15.1. (6) or . at 2 GPa, 1500°C (G#2), and log f O 2 = − 10.6 (4) or at 10 GPa, 1700°C (G#2).
Calculation of T-f O2 sections
Reactions governing reduced phases in the mantle
To understand the succession of phase assemblages with decreasing oxygen fugacity, we calculated
f
O 2
-temperature diagrams (Figure
2
) and phase compositions (Figures
3
and
4
) for a model harzburgite at 2 and 10 GPa. For reference, we also give the quartz-fayalite-magnetite (QFM), the graphite/diamond-CO
2
-CO equilibrium (CCO), and the iron-wustite buffer (IW), even if these do not occur as reactions in the harzburgite phase diagram. The position of the iron-wustite buffer is calculated from Campbell et al. ([
2009
]), which yields about half a log-unit lower values than the formulation of O'Neill ([
1988
]).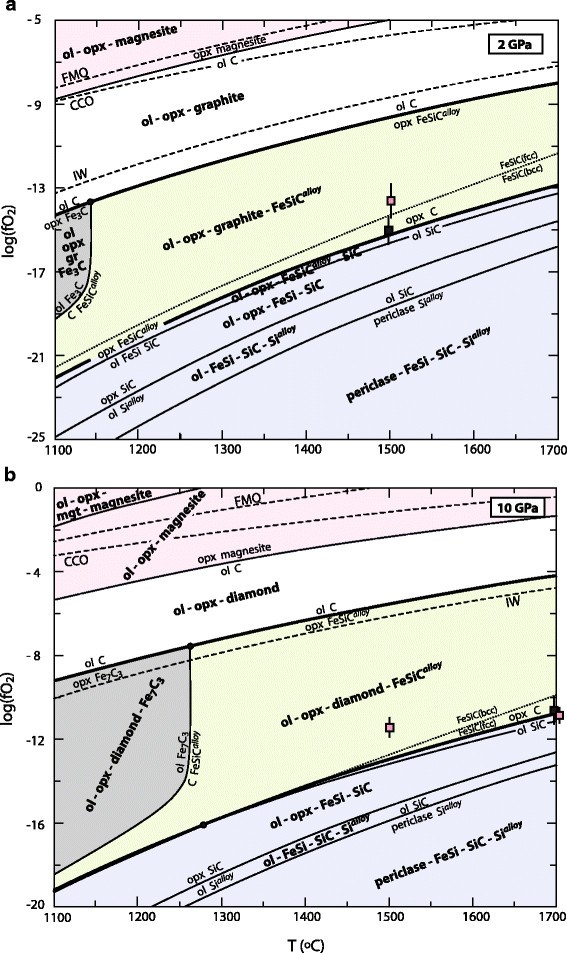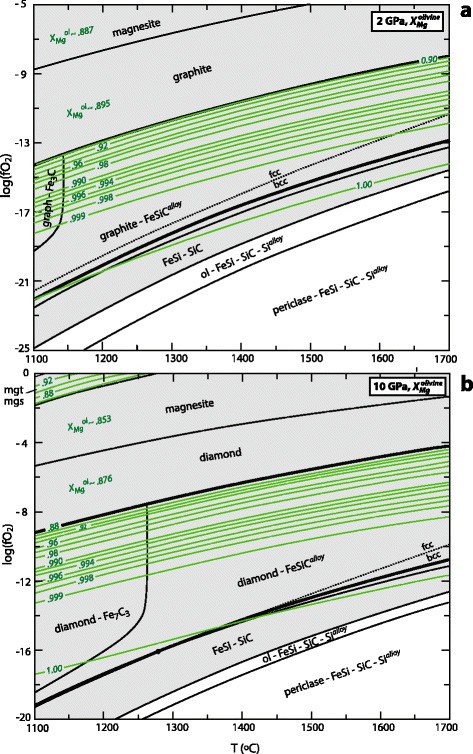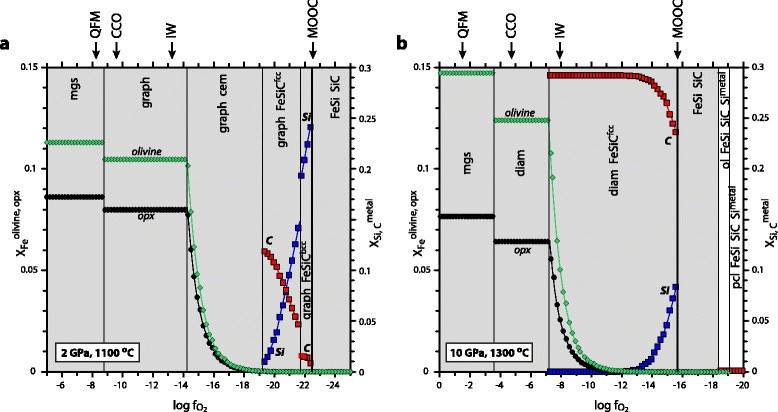 In the carbon-bearing upper mantle, the iron-wustite equilibrium does not occur, its equivalent leading to the appearance of reduced Fe
0
are the iron carbide forming reactions
which are only stable at relatively low temperatures, i.e. 1140 to 1260°C at 2 to 10 GPa. At higher temperatures, carbides do not form but a metal alloy results from
where FeSiC
alloy
is a ternary metal solid solution. The stoichiometry of reaction (
11
) depends on the alloy composition. The molar fraction of C in the alloy ranges from 0.13 to 0.33 at 2-10 GPa, 1150-1700°C. At oxygen fugacities of initial metal formation, Si-fractions are <0.1 mol% in the alloy. For a graphite/diamond saturated mantle with a bulk
X
Mg
of 0.9, reactions (10a, 10b) and (
11
) occur at 2 GPa about one log-unit below the iron-wustite buffer and about one log-unit above IW at 10 GPa (Figure
2
a,b). About 5-9 log-units below the carbide-forming reactions, increasing chemical potential of Si leads to the replacement of Fe
3
C or Fe
7
C
3
by the FeSiC-alloy then containing significant Si (Figure
5
b,d). Silicon contents in the alloy increase with decreasing oxygen fugacity leading to a phase transition from a face centered to a body centered metal structure (fcc and bcc in Figure
5
).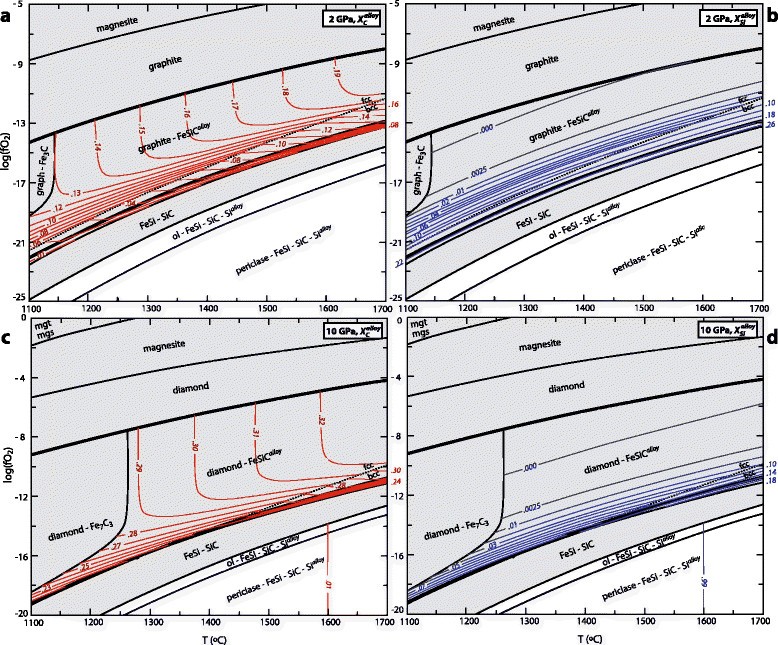 Silica carbide forms principally through a reaction involving moissanite, olivine, orthopyroxene and elemental carbon as graphite or diamond (moissanite-olivine-opx-carbon: MOOC)
at 2 GPa at 7.7-4.8 log-units (1100-1700°C) below equilibria (10a, 10b) and (11). At 10 GPa this difference is 9.9-6.5 log units (1100-1700°C). This corresponds to a Δlogf O2 of IW-9 to IW-6, the difference decreasing with temperature. Along a mantle adiabat, moissanite forms at IW-8.0 at 2 GPa and at IW-6.7 at 10 GPa. Reaction (12) was previously identified as being responsible for the appearance of moissanite in the upper mantle (Mathez et al. [1995]; Ulmer et al. [1998]).
Further reduction causes the FeSiC-alloy to be replaced by stoichiometric iron silicide FeSi. At 2 GPa this happens about ½ a log-unit below the SiC-buffer (12), while at 10 GPa, the FeSi-forming reaction intersects reaction (12) leading to an invariant point. At about 3 and 5 log-units below the SiC-forming reaction (12), opx and then olivine (at these conditions pure enstatite and forsterite, respectively) become unstable and a ternary metal alloy of almost pure Si forms through
where the Si-alloy has 1 mol% C. Completion of reactions (13) and (14) would leave no oxidized Si. The calculations do not indicate any Fe in the Si metal and only 0.2 to 1.3% C. Reaction (13) is relevant in nature as pure Si-metal attached to SiC has been reported by Trumbull et al. ([2009]).
Summarizing, a harzburgitic mantle would have the following succession of reduced phases: graphite/diamond → (Fe3C/Fe7C3) → Fe-rich FeSiCalloy → SiC → FeSi → Sialloy. At pressures ≥10 GPa, FeSi may form before moissanite.
Note that our calculations do not include liquids and that at high temperatures FeSiCalloy and FeSi become metastable with respect to liquid. This is of particular relevance at oxygen fugacities just below the metal-forming reaction (11) where a de facto binary FeC-alloy is almost Si-free. The Fe-C eutectic is located at 1150°C, 1 atm (Chipman [1972]) and 1210°C, 10 GPa (Hirayama et al. [1993]; Rohrbach et al. [2014]), although this location is not entirely unambiguous as Lord et al. ([2009]) report the eutectic at 10 GPa at 1420°C. In a graphite/diamond-saturated system, the ternary FeSiC-alloy would then be replaced by a metallic melt phase. FeSi has a temperature of congruent melting of 1410°C at 1 atm (Lacaze and Sundman [1991]), but to our knowledge its high pressure melting is unknown.
Mineral compositions at reduced conditions
The above reactions are discontinuous reactions that delineate the various stability fields. For the silicate mantle the continuous reactions consuming the fayalite and ferrosilite components in olivine and orthopyroxene are more dramatic. As illustrated in Figures 3 and 4, X Mg in olivine is almost invariant in each field of coexistence with magnesite or graphite/diamond. Immediately below the metal forming reaction, Fe2+ becomes strongly reduced, within only 2 log-units, the X Mg of olivine (and similarly opx) in equilibrium with metal or Fe3C/Fe7C3 and graphite/diamond increases to ~0.99 (Figures 3 and 4). When oxygen contents corresponding to the oxygen fugacities of SiC are reached, the equilibrium X Mg in the silicates is >0.999, almost invariant with pressure and temperature (at least for 1100-1700°C, 2-10 GPa). This confirms the experimental findings. Concomitant with the increase in X Mg of the silicates, an increase of the Si-content of the FeSiC-alloy is predicted (Figures 4 and 5), mirrored by a decrease of X Fe metal from ~0.90 to 0.70 at 2 GPa and from 0.76 to 0.66 at 10 GPa.
Silica carbide stability with temperature and pressure
A major question concerning the stability of SiC in the mantle regards the evolution of the difference in oxygen fugacity between the metal or Fe-carbide forming (10a, 10b, 11) and the SiC-forming reactions (12). This difference, Δlogf O 2 (12)-(10a,10b,11), decreases with increasing temperature but at near-adiabatic temperatures only by -0.1 log-units per 100°C. With increasing pressure there is a slight increase of Δlogf O 2 between the moissanite forming reaction and the equivalent of IW in the mantle such that along a mantle adiabat Δlogf O 2 (12)-(10a,10b,11) remains almost constant at ~ -4.5.
Conclusions
Mantle silicates in equilibrium with natural moissanite have X Mg values of >0.993, SiC forming only 4.5-6 log units below the IW reference buffer. Large volumes of peridotite with such mineral compositions are unknown, hence, SiC forms locally in disequilibrium with the bulk rock and does not reflect large scale modifications of oxygen contents in the mantle. SiC cannot be in equilibrium with minerals that have typical average mantle X Mg of 0.88-0.92. As Fe-Mg diffusion in silicates is generally fast, SiC could not survive at adiabatic temperatures in the mantle for any reasonable time span (i.e. >100'000 yrs) hence precluding any high temperature (>1000°C) origin of natural moissanite. Consequently, any primordial, core-mantle boundary or lower mantle origin for SiC can be ruled out on the basis of the temperatures involved. Nevertheless, natural moissanite does yet not directly indicate any particular pressure of formation.
We conclude that SiC forms through a relatively low temperature mechanism (<700-800°C) and identify this mechanism as percolation of ultra-reduced fluids. Such temperatures in mantle rocks are only realistic in the subduction realm or during orogenesis. Suitable fluids may originate from sediments rich in organic matter. These fluids evolve from moderately reduced compositions through progressive removal of the oxidized species H2O through hydrous magnesium silicates, which form through reaction with the host rock during fluid percolation. After >99% fractionation, such fluids may reach H:O ratios of ~1000 that stabilize SiC. Such extreme fractionation is obviously rare but may occur occasionally. The initial fluids are expected to form upon heating of sediments, this could occur in the subduction realm, but also during orogenic burial, possibly precipitating SiC in ophiolitic peridotites upon orogenesis.
Abbreviations
CCO:

Graphite/diamond-CO-CO2, Oxygen fugacity buffers
IW:

Iron-wustite
MOOC:

Moissanite-olivine-orthopyroxene-graphite/diamond
QFM:

Quartz-fayalite-magnetite.
Phases:

bcc: Body-centered cubic structure of Fe-alloy
graph:

Graphite
fcc:

Face-centered cubic structure of Fe-alloy
FeSiCalloy :

Alloy of ternary composition with dominant iron
mgt:

Magnetite
ol:

Olivine
opx:

Orthopyroxene
Sialloy :

Alloy of ternary Si-Fe-C composition, almost pure Si
Declarations
Acknowledgements
The experiments of this study were performed while C.Gao visited ETH with the State Sponsored Study Abroad Program by the Chinese Scholarship Council. A. Golubkova was supported through SNF grants 200020-140541/1 and 200020-153112/1 to MWS.
Authors' Affiliations
(1)
Department of Earth Sciences, ETH, Zurich, Switzerland
(2)
State Key Laboratory of Geological Processes and Mineral Resources, School of Earth Science, China University of Geosciences, Wuhan, China
(3)
Institut für Mineralogie, Westfälische Wilhelms-Universität Münster, Münster, Germany
(4)
School of Ocean and Earth Science, Tongji University, Shanghai, China
Copyright
© Schmidt et al.; licensee Springer. 2014
This article is published under license to BioMed Central Ltd. This is an Open Access article distributed under the terms of the Creative Commons Attribution License (http://creativecommons.org/licenses/by/4.0), which permits unrestricted use, distribution, and reproduction in any medium, provided the original work is properly credited.