Correction to: Review of the accomplishments of mid-latitude Super Dual Auroral Radar Network (SuperDARN) HF radars
Progress in Earth and Planetary Science volume 6, Article number: 53 (2019)
829 Accesses

1 Citations

1 Altmetric
Correction to: Prog Earth Planet Sci (2019) 6:27
https://doi.org/10.1186/s40645-019-0270-5
After publication of this article (Nishitani et al. 2019), it was brought to our attention that the figure 5 is incorrect, where the positions of DCE and SPS were misplaced. The correct figure 5 is as below, the original publication has been corrected.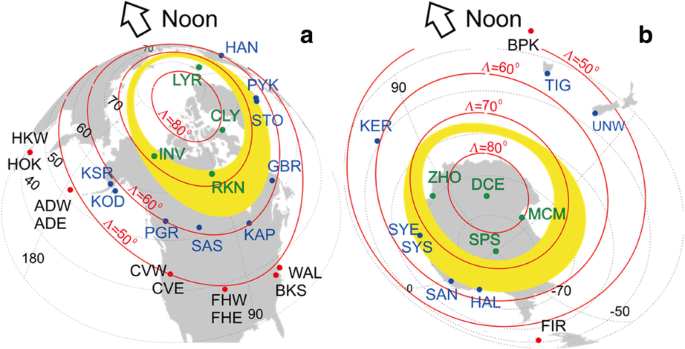 Rights and permissions
Open Access This article is distributed under the terms of the Creative Commons Attribution 4.0 International License (http://creativecommons.org/licenses/by/4.0/), which permits unrestricted use, distribution, and reproduction in any medium, provided you give appropriate credit to the original author(s) and the source, provide a link to the Creative Commons license, and indicate if changes were made.
About this article
Cite this article
Nishitani, N., Ruohoniemi, J.M., Lester, M. et al. Correction to: Review of the accomplishments of mid-latitude Super Dual Auroral Radar Network (SuperDARN) HF radars. Prog Earth Planet Sci 6, 53 (2019). https://doi.org/10.1186/s40645-019-0300-3
Received:

Accepted:

Published:

DOI: https://doi.org/10.1186/s40645-019-0300-3