Research article
Open Access
Upwelling: a unit of disturbance in equatorial spread F
Progress in Earth and Planetary Science
2015
2:9
Received: 8 November 2014
Accepted: 10 March 2015
Published: 23 April 2015
Abstract
Plasma structure in the nighttime equatorial F layer, often referred to as equatorial spread F (ESF), is not uniformly distributed, either in time or in space. Observations indicate that ESF in the bottomside F layer takes the form of patches; plasma structure within the F layer takes the form of localized plasma depletions, called equatorial plasma bubbles (EPBs), which tend to occur in clusters. Another observed feature is an upwelling, which has been described as a localized, upward modulation of isodensity contours in the bottomside F layer. Interestingly, zonal widths of ESF patches, EPB clusters, and upwellings are similar. Moreover, all display an east-west asymmetry. The objective of this paper is to show, for the first time, that an ESF patch is the bottomside counterpart of an EPB cluster, and that both are products of the electrodynamical process that takes place within an upwelling. The process can be described as having three phases: (1) amplification of upwelling amplitude during the post-sunset rise of the F layer, (2) launching of the first EPB of the evening, from crest of the upwelling, and (3) structuring of plasma within the upwelling. Hence, an upwelling, whose presence is responsible for the formation of ESF patches and EPB clusters, can be envisioned as a unit of disturbance that occurs in the nighttime equatorial ionosphere.
Keywords
Equatorial spread FF-region plasma structureEquatorial ionosphereEquatorial plasma bubblesDeep convective activity in troposphereAtmospheric gravity wavesNeutral-ion couplingSwoopersTransequatorial propagationInterchange instability
Background
Overview
Plasma structure, found in the nighttime equatorial F layer, is often referred to as equatorial spread F (ESF). Although the term was coined originally to describe the spreading of the F trace (in range) in ionograms (Cohen and Bowles, 1961), it is now used generically to refer to both the structure and the conditions that are conducive for its development. Our knowledge and understanding of ESF have evolved from views of structure in the bottomside of the F layer with ground-based sensors, and from measurements made in situ within the F layer with space-borne instruments. Useful and unifying glimpses, though only occasional, have been provided by rockets and incoherent-scatter (IS) radars.
A better understanding of the physical processes is slowly emerging as theoretical and modeling studies are conducted to interpret observations. Clearly, theories and model outputs cannot be properly evaluated without observations that are both comprehensive and accurate. In this regard, we believe that the measurements needed to answer the outstanding questions on ESF are not being made (e.g., see Tsunoda 2005).
In the meantime, we believe that much can be learned by considering whether the 'patchiness' of ESF and the 'clustering' of equatorial plasma bubbles (EPBs) (e.g., McClure et al. 1977) are related, through some kind of physical process. Clearly, if this kind of relationship can be shown to exist, a unified and more comprehensive description of ESF would emerge. Patches have been detected in the bottomside F layer, over several decades, with ground-based instruments such as (1) ionosondes (Calvert and Cohen 1961; Cohen and Bowles 1961), (2) radio experiments (Calvert et al. 1963; Davies and Chang 1968; Röttger 1973), and (3) radars (Clemesha 1964; Kelleher and Skinner 1971). Impressions are that the patches, observed by these different methods, are produced by related plasma structures (e.g., Kelleher and Röttger 1973; Aarons et al. 1978). Within the F layer, ESF takes the form of EPBs (e.g., Tsunoda 1981; Tsunoda et al. 1982), which are spaced in longitude. A closer examination reveals that EPBs occur more often in clusters (e.g., Singh et al. 1997), than they do individually. Interestingly, other observations have shown that an upwelling (i.e., localized altitude modulation) often appears in the bottomside F layer, prior to the development of ESF or EPBs (e.g., Tsunoda and White 1981; Tsunoda 2005). Moreover, the width of an upwelling is very similar to those of ESF patches and EPB clusters. And, there is further evidence that an upwelling can control when, where, and how an ESF patch or EPB cluster develops (Tsunoda and White 1981; Tsunoda 2005).
Methods
Objectives
The objectives of this paper are to unify the observations of ESF and EPBs, and to validate the following hypothesis:
The formation of ESF patches and EPB clusters is controlled by the electrodynamics that sets up within an upwelling in bottomside of the equatorial F layer
An upwelling is defined as a localized, upward displacement of isodensity contours in the bottomside of the
F
layer, as shown in Figure
1
(an upwelling can appear in apparent isolation, at some longitude, or several can appear as a wave train; the latter is referred to as large-scale wave structure (LSWS)). The contours, shown between 300 and 450 km in altitude, describe the distribution of plasma density (
N
). Here, upwelling amplitude is about 50 km and zonal width is about 300 km (the increased jaggedness in contours associated with lower
N
values is produced by low signal-to-noise ratios, and should be ignored for our purposes here). The smattering of small pink islands that appear in the vicinity of 500 km altitude is associated with the peak of the
F
layer. Perhaps the earliest measurement of an upwelling was made with a 630 nm all-sky imager by Weber et al. (
1978
,
1980
,
1982
). A collocated ionosonde showed that local uplifting of isodensity contours was associated with the north-south-aligned channel of nightglow depletion. Unambiguous descriptions of this kind are few and far between because they are available only from ALTAIR, a fully steerable incoherent scatter (IS) radar (Tsunoda et al.
1979
; Tsunoda and White
1981
; Tsunoda
1983
). Less-direct results have been obtained from variations in total electron content (TEC) as a function of longitude (e.g., Thampi et al.
2009
; Tsunoda et al.
2010
); these more routine measurements have shown that occurrences of upwellings are fairly common (Tulasi Ram et al.
2014
).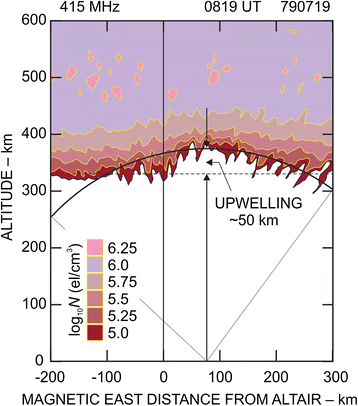 In the remainder of this paper, we show how an upwelling provides the framework for the development of (1) each patch that is detected by a ground-based sensor, and (2) each cluster of EPBs that is encountered by a satellite-borne instrument. We conclude that an upwelling can be viewed as a unit of disturbance in ESF. To place this kind of description in context, we note that usage of the term 'convective ionospheric storm' to refer to ESF has increased (e.g., Makela et al. 2005, 2006; Kelley et al. 2005, 2009, 2011). If the research community chooses to accept this terminology, it may be reasonable to refer to the process, which takes place within an upwelling, as a convective ionospheric substorm.
ESF patches in bottomside F layer
The properties of ESF patches found in the bottomside of the equatorial F layer, presented below, have been compiled from (1) bistatic radio propagation experiments, in which both the Doppler shift and spread in a continuous-wave (CW) signal were measured; (2) transequatorial propagation (TEP) experiments, in which the delay and azimuthal angle-of-arrival of pulsed transmissions were measured; and (3) ionograms, which were recorded at a station near the magnetic dip equator. We show that, regardless of the method of measurement, ESF patches appear sequentially, starting around the end of the post-sunset rise (PSSR) of the F layer, and each patch displays an east-west (EW) asymmetry.
Discussion
A working model
We believe the evidence supporting the upwelling hypothesis ('
Objectives
' section) is strong enough to be used as a working model for the development of ESF. Theory, observations, and outputs from computer models can be used to test the robustness of the hypothesis. A sketch that captures the basic elements of this working model is presented in Figure
8
. It can be viewed as a snapshot in UT, in which the ordinate is altitude and the abscissa is longitude; the vertical plane is aligned with the magnetic dip equator. The blue dashed line represents an isodensity contour in the bottomside of the
F
layer (the sketch is centered on the end of the PSSR). At the west end of the sketch, LT is assumed to be the late afternoon sector, where small-amplitude LSWS can be present prior to the growth phase ('
Growth phase: amplification of upwellings
' section). The wavy red curve represents an isodensity contour, when LSWS is present. Although LSWS is shown in Figure
8
to extend without interruption from late sunset to midnight (or later), upwellings can appear in apparent isolation, or in a group of up to ten upwellings (Röttger
1973
). In this sketch, the PSSR is shown to take place in 1 h, which is equivalent to about 1,500 km in zonal distance. The distance between upwellings (i.e., wavelength of LSWS) is about 400 km (e.g., Röttger
1973
; Tsunoda and White
1981
). Sizes of observed patches are also about 400 km (e.g., Aarons et al.
1978
).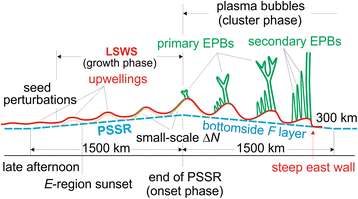 Conclusions
From our perspective, the notion that an ESF patch or EPB cluster can be envisioned as a unit of disturbance is appealing. With hindsight, use of the term 'convective ionospheric substorm' does not seem to be so far-fetched. The spatial scale of the substorm is set by the zonal width of the upwelling, which is, perhaps typically, 400 km (e.g., Röttger 1973). The substorm process, which consists of three phases, is completed in one to two (or a few) hours. All of the pertinent electrodynamics take place in a plane transverse to B, with allowance for the mapping of E along B. With this framework for understanding, we are forced to keep in mind that even in the simplest of descriptions, ESF must be considered in terms of a two-dimensional (2D) structure (in plane transverse to B) that evolves with time. For example, it should be evident, from Figure 6, that an altitude-time-intensity description of ESF obtained with a fixed-beam radar (e.g., Woodman and La Hoz 1976) does not capture a true representation of the process.
The importance of a 2D description should be abundantly clear. The envisioned ESF process is still closely associated with the PSSR, which is consistent with most observations (e.g., Fejer et al. 1999). The primary EPBs, for example, are likely direct products of a strong PSSR and a high F layer, which is conducive to the gravitational interchange instability. The PSSR plays a less-direct role in the development of ESF patches and EPB clusters. That is, the PSSR amplifies an upwelling, and it is the zonal gradient along the west wall of the upwelling, together with an eastward U, that leads to the development of a cluster of secondary EPBs. Moreover, structuring of the west wall (but not east wall) is responsible for the EW asymmetry in numerous observations.
The finding that the ESF patches and EPB clusters tend to have spatial scales around 400 km is also appealing because most of the proposed physics appear to favor this spatial scale. The amplification of LSWS, but not EPBs, suggests that velocity shear may be responsible for a preferred larger wavelength (Guzdar et al. 1982, 1983). On the other hand, the observations (although still few) of LSWS prior to SS E suggests that the source is not the velocity shear in the bottomside F layer. If true, the source may be an AGW that is excited in the troposphere. It turns out that AGWs with larger spatial scales have higher phase velocities, which are more likely to survive the journey from troposphere to ionosphere (e.g., Vadas 2007). Once the AGW reaches the F-region, LSWS must be produced by AGWs through some form of neutral-ion coupling, which likely involves a polarization E (e.g., Klostermeyer 1978). It also turns out that most of the geometries that allow avoidance of polarization-shorting effects, such as the azimuth of propagation for AGWs (Tsunoda 2010a,c), AGWs have circular phase fronts (Tsunoda 2010b), and the presence of a conducting E layer on B lines that thread the phase fronts of AGWs, favor larger spatial scales.
In closing, our paradigm appears to be a reasonable first step toward constructing a unified working model for ESF. The model, as described, is likely more relevant to conditions of high solar activity during ESF season. Much remains to be done. There are already a significant number of observations that may not appear to fit the paradigm described in this paper. We suggest that care be taken in how one-dimensional descriptions are extrapolated to produce a 2D description, before drawing conclusions. That aside, it is likely that other interpretations will be needed to modify this working model to accommodate new observations, and to extend our understanding of the underlying physics.
Abbreviations
2D:

two dimensional
AE-E:

atmospheric explorer-E
AGW:

atmospheric gravity wave
B :

geomagnetic field
C/NOFS:

communication/navigation outage forecasting system
CGW:

circular AGW
CW:

continuous wave
DLAT:

dip latitude
E :

electric field
EPB:

equatorial plasma bubble
ESF:

equatorial spread F
EW:

east-west
GLAT:

geographic latitude
GLON:

geographic longitude
h'F:

minimum virtual height of F layer
IS:

incoherent scatter
JRO:

Jicamarca radio observatory
LST:

local solar time
LSWS:

large-scale wave structure
MCC:

mesoscale convective complex
MRE:

multi-reflected echoes
N:

plasma density
Ni :

ion density
OLR:

outgoing longwave radiation
PSSR:

post-sunset rise
RSF:

range spread F
SS E :

sunset in E-region
SS F :

sunset in F-region
ST:

satellite trace
TEC:

total electron content
TEP:

transequatorial propagation
U :

neutral wind
UT:

universal time
ν in :

ion-neutral collision frequency
Declarations
Acknowledgements
Research was supported by the National Science Foundation under grant ATM-1242815, and the Air Force Office of Scientific Research, under Contract FA9550-15-C-0018. Ionograms from the Jicamarca Digisonde are available from website, umlcar.uml.edu/DIDBase/, operated by the University of Massachusetts, Lowell, Mass. The Digisonde is operated by the Jicamarca Radio Observatory. OLR maps are available from website, aviationweather.gov/obs/sat/intl/. The JpGU classification for this paper is space and planetary sciences.
Authors' Affiliations
(1)
Center for Geospace Studies, SRI International, Menlo Park, USA
Copyright
© Tsunoda; licensee Springer. 2015
This is an Open Access article distributed under the terms of the Creative Commons Attribution License (http://creativecommons.org/licenses/by/4.0), which permits unrestricted use, distribution, and reproduction in any medium, provided the original work is properly credited.